ASUS' new Transformer 3 hybrids target Microsoft Surface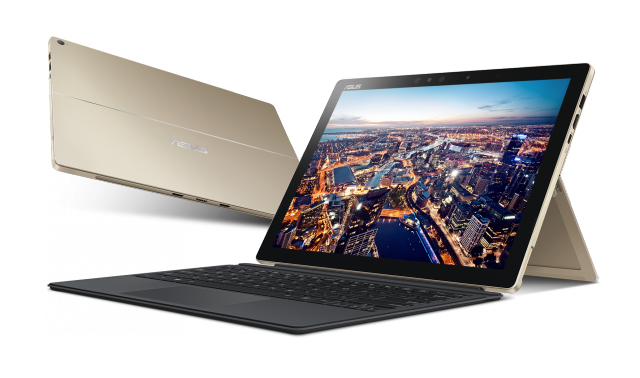 There is no shortage of Surface competitors these days, as more and more manufacturers realize that there is huge potential for growth in the hybrid device market. Even Apple has entered this space, launching the iPad Pro last year to quickly establish itself as the sales leader. Can ASUS, with its new Transformer 3 devices which it just unveiled at Computex, have something to say in this market?
ASUS seems to understand what makes hybrid devices -- or ultraportables -- so appealing. The Transformer 3 Pro -- the top of the line model in the line -- features powerful hardware in a shell similar to a large tablet. It also has a keyboard, that is included in the box, and a screen big enough for every day use. On paper, it might be a better laptop replacement than Microsoft's Surface Pro 4.
ASUS says that Transformer 3 Pro (featured above) features a 12.6-inch display, with a resolution of 2,880 by 1,920 (that's 275 pixels per inch, in case you are wondering), that covers 121 percent of the sRGB color space. It is powered by an Intel Core i7 processor (seventh-generation) coupled with up to 16GB of RAM and 1TB PCIe SSD.
The Transformer 3 Pro features a metal, "stepless" hinge on the back which lets you position the device at viewing angles up to 170 degrees. The Transformer 3 Pro comes in at just 8.35mm thin, which is impressive.
The keyboard, called Transformer Cover, is backlit, with its keys offering 1.4mm of travel, which ASUS says that it matches the travel of laptop keyboards. It will be offered in four color options to "complement" the Transformer 3 Pro.
There is a USB Type-C port, USB 3.1 and Thunderbolt 3 support, and an HDMI port too. ASUS says that the Transformer 3 Pro can drive two 4K displays, which is surely an attractive feature for those looking for a hybrid to replace their laptop or ultrabook with.
Other features worth noting are the dual front stereo speakers (Harman Kardon-branded), 13 MP camera on the back, optional Pen (stylus) with 1,024 levels of sensitivity and Universal Dock, which offers a new number of extra ports and SD card reader, but also Audio Pod, which is labeled as an "entertainment accessory" that offers four speakers for virtual 5.1 surround sound, and ROG XG Station 2, which is an external graphics card that can be paired with the hybrid to give it a massive graphics performance boost -- especially in VR applications.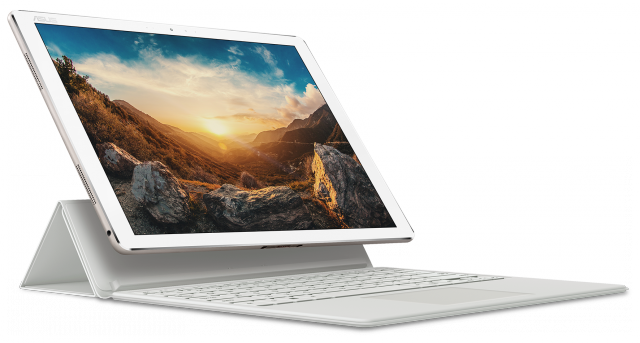 Then there is the base Transformer 3 (pictured above). Similar to the Transformer 3 Pro in terms of display, it is positioned as a less-powerful alternative to Surface Pro 4 in the new lineup. The maximum amount of RAM is 8GB, and the most internal storage that you can get with it is 512GB. Oh, and there is also a detachable Transformer Sleeve Keyboard with a two-position kickstand and glass-covered keyboard. Other than that, it is pretty much the same as its premium brother.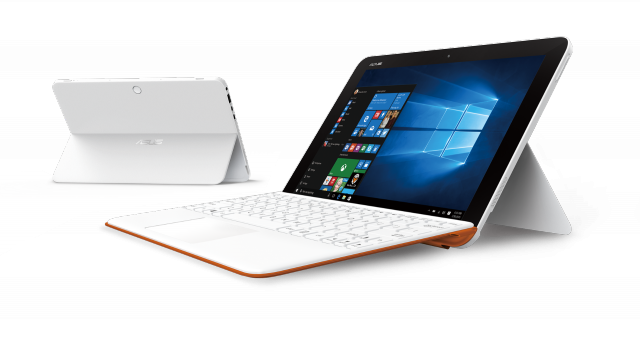 For those who prefer a smaller hybrid device, ASUS has also announced the Transformer Mini (shown above). It is a Surface 3 and 9.7-inch iPad Pro rival based on size. It has a 10.1-inch screen, which provides 400 nits of brightness, an 8.2mm-thick profile, 530g in weight (790g with a keyboard attached), Wi-Fi 802.11ac, USB Type-C, and up to 11 hours of battery life.
There is an integrated kickstand featuring the same technology as on the Transformer 3 Pro, so you will be able to find an angle that suits you. The keyboard provides 1.5mm of travel and a palm rest. It, of course, runs Windows 10, and packs some ASUS-branded software.
The Transformer 3 Pro will retail starting at $999, while Transformer 3 will kick off at $799. There is no word on how much Transformer Mini will cost. All tablets will go on sale in Q3.