Apple bumps up the iPad's storage, drops Pro prices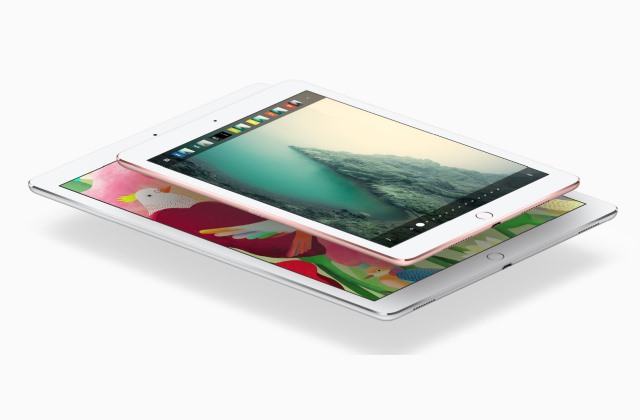 Apple yesterday unveiled new iPhones and the Apple Watch Series 2, but did not announce any changes related to the iPad line. Some folks expected it to unveil new models, but the company had other things in mind for its popular tablets.
One of the main changes that Apple introduced with the iPhone 7 and iPhone 7 Plus is the bump in base storage to 32GB, up from the 16GB that previous models shipped with at the entry level. That is a change that Apple has quietly applied to the iPad line too, along with a drop in price for the Pro models.
Every base iPad model that Apple currently sells now features 32GB of storage. The bump in storage to the next model in the range still costs $100, though many will probably be happier now to stick with the most affordable version. That is not the only change that pertains to the storage, as for non-Pro iPads you are now only getting 32GB and 128GB options to choose from.
Meanwhile, the 9.7-inch iPad Pro and 12.9-inch iPad Pro saw their price drop by $50 on the 128GB models and $100 on the 256GB versions. This change applies to both Wi-Fi and Cellular models. A base 9.7-inch iPad Pro now goes for $599, while the 12.9-inch counterpart kicks off at $799. As with the other iPads, you have to add $130 to make the upgrade to cellular (4G LTE) connectivity.
You can see how the lineup looks below, in terms of storage options and prices.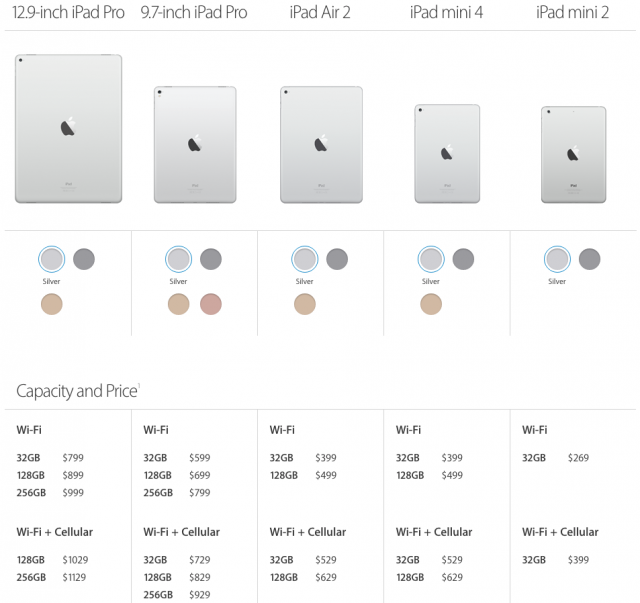 As you can see, this is not a huge update and certainly not the upgrade that some folks probably expected. The iPad, while still popular compared to other tablets, is seeing a drop in sales, just like the tablet market in general is, and Apple likely cannot justify a significant change at this point, knowing that consumers are unlikely to change their buying habits.
Also, it has introduced the Pro-grade iPads, which seem to be doing better in terms of sales. The margins are likely higher than for the rest of the line. An iPad Air 2 now starts at $399, which is $100 less than its initial retail price. There are fewer storage models too and, because what consumers have the option of purchasing now is more attractive than before, fewer reasons to spend more to get one.