Toshiba launches 3.5-inch 8TB N300 'High-Reliability' NAS hard disk drive for consumers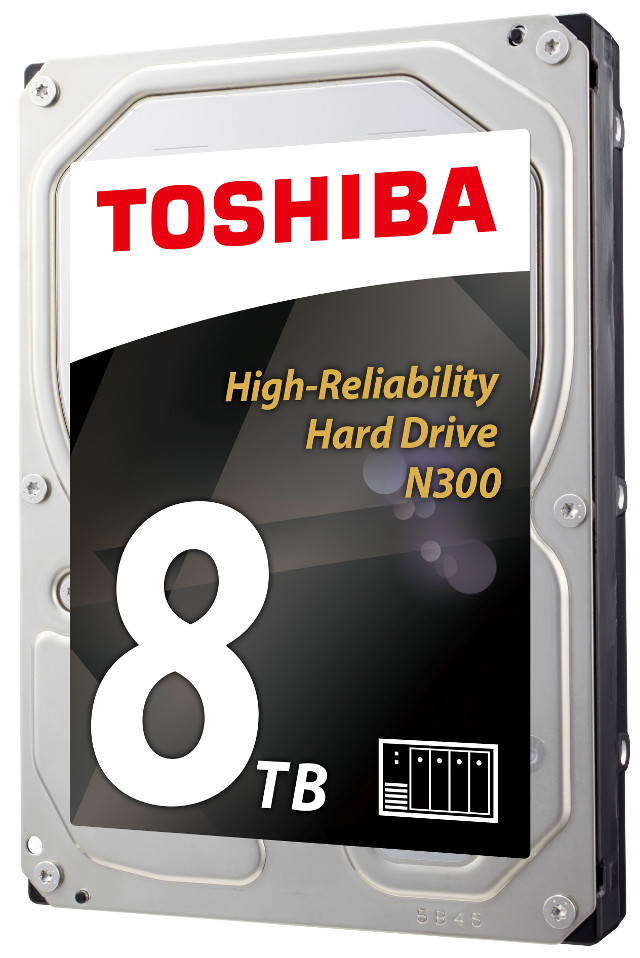 Solid state drives are new and "sexy" nowadays, so understandably, mechanical hard disk drives aren't exactly exciting. With that said, SSDs cannot touch HDDs from a capacity standpoint, so they are still very much relevant -- not only for large businesses and data centers, but for home users and small businesses too.
Today, Toshiba launches a new mechanical HDD that offers capacities up to 8TB. The company says the 3.5 inch drive is primarily for networked attached storage, but it can, of course, also be used inside PCs or with USB enclosures. The consumer-focused drive is designed to last, as Toshiba calls it "High-Reliability."
"The N300 Series is available in 4TB, 6TB, and 8TB capacities; all featuring a large 128MB data buffer. With support for up to eight drive bays in a multi-RAID NAS2design, users' NAS configurations can grow in line with their evolving data storage needs. Additionally, Toshiba's Dynamic Cache Technology, a self-contained cache algorithm with on-board buffer management, optimizes cache allocation during read/write to provide the high-level performance demanded by real-time domains," says Toshiba.
The famed company further explains, "Employing advanced technologies that maximize performance and prevent downtime, the N300 Series HDDs utilize advanced control and sensing technology to mitigate the effects of vibration, shock and heat. With Toshiba Stable Platter technology, a tied spindle motor stabilizes the motor drive shaft at both ends to curb system-induced vibration. Toshiba's Ramp Load technology reduces disk head wear and tear. Multiple shock sensors detect and compensate for shock and rotational vibration, while error recovery control minimizes recovery time from data errors. Further, use of high-endurance components ensures durability in harsh environments."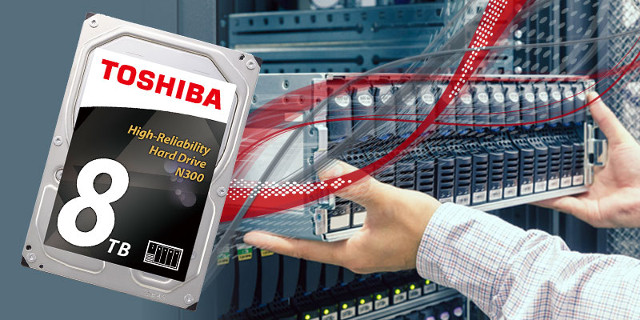 Toshiba shares some very detailed specifications below.
Part Numbers
High-Reliability Hard Drive N300 - 4TB (retail version)
HDWQ140XZSTA
High-Reliability Hard Drive N300 - 6TB (retail version)
HDWN160XZSTA
High-Reliability Hard Drive N300 - 8TB (retail version)
HDWN180XZSTA
Basic Specifications
Form factor
3.5-inch
Interface
SATA
Interface Speed
6.0 Gbit/s
Available capacities
4 TB, 6 TB, 8 TB
Features
Drive bays supported
1 to 8
Rotational Vibration (RV) sensor
yes
24 x 7 operation
yes
RoHS compatible
yes
Halogen Free
yes
Performance
Rotational speed
7,200 rpm
Data transfer speed (Sustained)
200 MB/s (4 TB), 210 MB/s (6 TB), 240 MB/s (8 TB)
Buffer size
128 MB
Average latency
4.17 ms
Reliability
Workloads
180 TB/year
MTTF
1,000,000 hours
Unrecoverable error rate
1 x 1014 bits read
Warranty (limited)
3 years
Power Management
Supply voltage
5VDC (±5%) / 12VDC (±10%)
Consumption (operating)
9.6 W typ. (4 TB), 10.1 W typ. (6 TB), 9.2 W typ. (8 TB)
Consumption (active idle)
5.2 W typ. (4 TB), 6.7 W typ. (6 TB), 6.2 W typ. (8 TB)
Environmental
Temperature (operating/non-operating)
0 to 60 C /'-40 to 70 °C
Vibration (operating)
0.75G (5 to 300 Hz)
0.25 G (300 to 500 Hz) or less
Vibration (non-operating)
5G (5 to 500Hz) or less
Shock (operating)
70 G / 2 ms duration
Shock (non-operating)
250 G / 2 ms duration
Acoustics (idle mode)
30 dB typ. (4 TB), 33 dB typ. (6 & 8 TB)
Acoustics (seek mode)
34 dB typ. (4 TB), 35 dB typ. (6 & 8 TB)
Physical
Dimensions
147 (L) x 101.85 (W) x 26.1 (H) mm
Weight
770 g max.
Bottom holes type
TYPE1 (4 TB), TYPE1 (6 TB), TYPE2 (8 TB)
Box Content
3.5-inch internal hard drive - N300 High-Reliability Hard Drive
Pricing is unknown at this time, although that will be revealed very soon. Toshiba says the N300 will go on sale in April 2017 -- the month we are in currently -- so it should begin showing up at popular retailers very soon.