Kingston launches DataTraveler Bolt Duo flash drive for Apple iPhone and iPad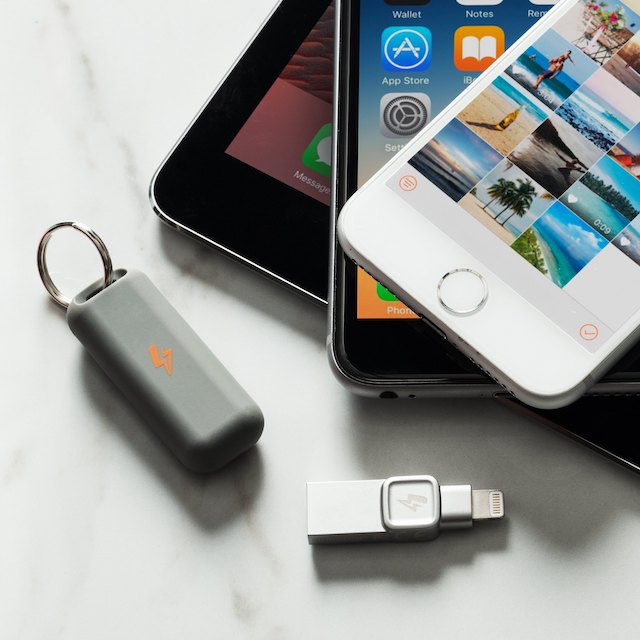 Nowadays, many people leverage cloud storage for mobile devices. With Wi-Fi and high-speed cellular data being commonplace, this works fairly well -- until it doesn't. If you ever find yourself in a place without a reliable internet connection, it can be quite frustrating when you can't access needed files. It can also be a massive dilemma if your phone or tablet runs out of available storage and you don't have a connection to offload them to the cloud.
While many Android devices can use USB-C flash drives, iPhone and iPad users cannot, sadly. Luckily, some manufacturers make flash drives with a Lightning connector, enabling Apple users to both expand storage and move files without the need of the internet. Today, Kingston releases its latest such model, called DataTraveler Bolt Duo. This is a USB 3.0 flash drive that has both a Lightning connector and USB Type-A. With capacities up to 128GB, it could be a very useful product for iOS users.
"With no option for expandable storage on iPhones and iPads, Bolt is perfect to free up device space. Its intuitive app is simple to use and the capacities allow for storing up to 8,000 photos (32GB), 16,000 photos (64GB) and 32,000 photos (128GB). Photos and videos can be taken directly on Bolt and its slim form factor, protective rubber case and keyring makes it conveniently portable," says Kingston.
Andrew Ewing, Senior Manager Consumer Business, Kingston says, "Users capture more memories every day so it's only a matter of time before their iPhone fills up. Bolt is a great device to back up and free up storage space on iPhones or iPads. It functions like a Flash drive for iPhone. Users simply plug it in, download the Bolt app and then back up to their camera roll. No more deciding which photos or videos to keep and which to delete when the dreaded 'storage full' notification pops up."
This slideshow requires JavaScript.
The Kingston DataTraveler Bolt Duo flash drive for Apple iPhone and iPad can be had immediately here. It is available in three capacities -- 32GB ($60), 64GB ($90), and 128GB ($120). It comes with a free keychain sheath too.