Toshiba unveils 1TB MQ04 2.5-inch 7mm hard disk drive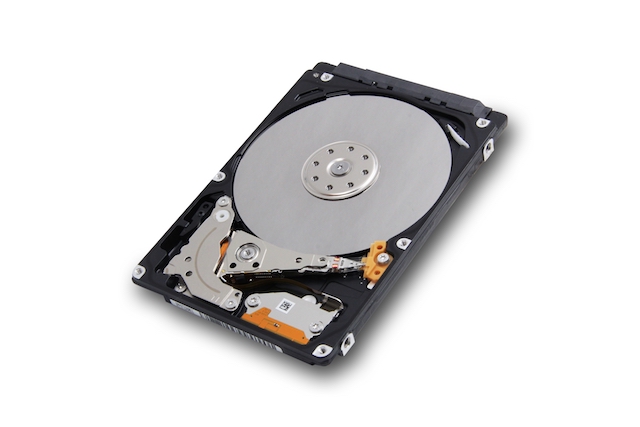 Look, mechanical hard disk drives are on their way out. The technology is quite outdated -- solid state storage is obviously the future. For the short term, however, these mechanical drives do have some value, mostly because they are inexpensive comparatively. With SSD storage capacities increasing, the need for a HDD -- especially the 2.5-inch form factor -- is entirely due to cost savings at this point.
Toshiba is happy to manufacture these HDDs as long as people and laptop makers are buying them, and today, the company unveils its latest offering. Called "MQ04," it is a 1TB 2.5-inch drive that is very slim at a mere 7mm. The small physical design is possible because internally, there is just a single spinning 1TB disk.
"The MQ04 Series single-disk model delivers 1TB of data storage capacity in an ultra-compact 2.5-inch, 7mm height form factor. The drive's 6 Gbit/s SATA interface and 5,400 rotational speed combined with a large 128MiB buffer and consistent seek performance, result in a 34 percent higher internal transfer rate performance when compared to the previous 1TB MQ01 Series models. The new model is also quieter and weighs less than prior generations," says Toshiba.
Scott Wright, Director of HDD Product Marketing at Toshiba says, "Achieving 1TB per disk capacity is a big advancement in both value and performance, and without increasing weight in portable PCs. With a field-proven single disk 7mm design heritage, the new Toshiba MQ04 1TB model offers reliable performance and capacity at the leading edge of mobile client HDD technology and value."
Toshiba shares the full specifications below.
Product Specification

Product Name
MQ04ABF100
Capacity
1 TB
Number of Discs
1
Number of heads
2
Interface
Serial ATA 3.3 / ATA 8
Interface speed
6.0 Gbit/s
Rotational speed
5,400 rpm
Buffer memory
128MiB
External Dimensions

(W) 69.85 mm
(D) 100.0 mm
(H) 7.0 mm

Weight
92 g
Noise
Idle
19 dB
Seek
21 dB
Vibration resistance
Operating
9.8m/s, 1G (5-500Hz)
Non-operating

49m/s, 5G (15-500Hz)

Shock resistance
Operating
3,920m/s, (400G, 2msec half sine wave)
Non-operating
9,800m/s, (1000G, 2msec half sine wave)
According to Toshiba, availability starts today, although I haven't been able to find it for sale anywhere yet. The company also doesn't share pricing, but that should be revealed very soon. We have reached out to Toshiba and will update with pricing once we have it.