Belkin unveils BOOST↑CHARGE Power Bank 10K with Apple-certified Lightning connector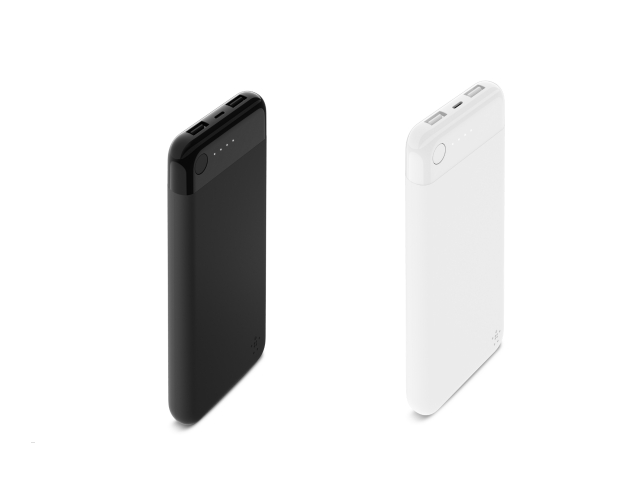 USB power banks are a dime a dozen these days. Believe it or not, they are often given away at trade shows and conferences -- they have become a ubiquitous throwaway promotional item, much like the USB flash drive. Not to mention, sites like Amazon are littered with these USB battery packs at rock bottom prices. Of course, that's not to say all power banks are created equally. Just like with flash drives, power bank specifications matter. It is still worth investing in a quality unit.
With all of that said, it can be very hard for such a device to stand out. Belkin has managed to do so, however. How? By adding an Apple MFi-certified Lightning port to its latest USB battery pack. Called "BOOST↑CHARGE Power Bank 10K," it features two USB-A ports for charging devices, but to charge the bank itself, you use a Lightning cable. How cool is that?
Most such battery packs use USB-C or micro USB to replenish. This is fine if you are an Android user, as your phone charger can likely charge your battery pack too. For Apple users, however, it means carrying around an extra cable when traveling. For instance, in your bag, you would need a USB AC adapter, Lightning cable to charge your phone, and yet another cable to charge the bank. First world problems, I know.
While not a huge dilemma, it is annoying nevertheless. And so, the BOOST↑CHARGE Power Bank 10K alleviates this issue. iPhone users can charge both their smartphone and the power bank using the same charger. It is less to carry, and more importantly, less to forget.
Speaking of this new product, Belkin says the following
Designed especially for iPhone and iPad, this portable power bank is the first MFi-power bank to recharge via Lightning connector, allowing you to use the same Lightning cable to charge the power bank, as you use to charge your iPhone. This one-cable solution makes this small, thin, lightweight power bank (aka portable charger) ideal for on-the-go charging and is fully MFi-certified to guarantee compatibility with iPhone and iPad.
As the product name implies, it features a 10,000mAh battery -- enough to charge your iPhone multiple times. Since it has two USB type-A ports, you can simultaneously charge two devices -- good for helping out friends and family.
Despite the solid specs, unique Lightning port, and legendary Belkin quality, it is priced quite reasonably at $59.99. Unfortunately, it is not yet available for purchase; hopefully it will show up in stores soon. What we do know for sure, however, is that it will be sold in two color options -- black and white.