How to access your Android phone from Windows 10 with Microsoft's Your Phone app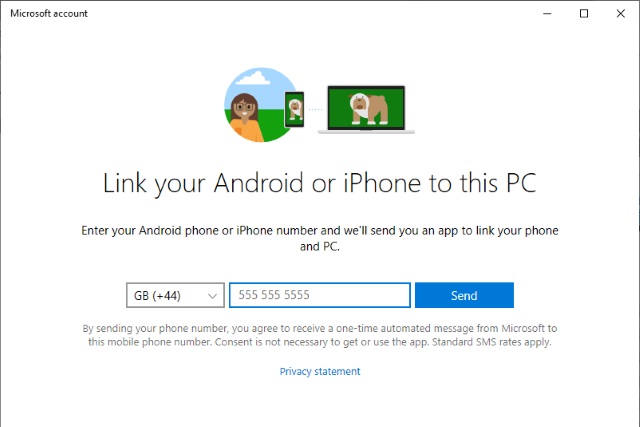 Without a mobile operating system of its own, Microsoft is doing more for iOS and Android users than ever before. One example of this is the Your Phone app which makes it possible to view your Android phone's photos on your computer, as well as viewing and sending text messages from the comfort of Windows 10. Microsoft has also promised to enable an exciting-sounding app-mirroring feature.
As long as you have upgraded to the Windows 10 October 2018 Update, you'll have the Your Phone app installed on your computer already. Here we take a look at this handy tool and show you how to get started with it.
See also:
Your Phone is an app that is going to grow over time, and for now it is just text and photo features that are available to Android users. The same options will be coming to iPhone, but for now Microsoft is focusing on Android.
Microsoft explains:
Pausing a task on your PC to respond to a text or notification on your phone can instantly break focus and take you out of your flow. The Your Phone App brings instant access to your texts and photos from your Android phone right on your PC, enabling you to stay productive and maintain your focus.
In a tweet about the Your Phone app, Microsoft shows how your Android phone can be used from within Windows 10:
Sometimes you can't stop for a text. Now you don't have to. Get Your Phone app and text right from your PC. Available now in the #Windows10 October 2018 Update. #MicrosoftEvent pic.twitter.com/JCXP3cJ3Zl

— Windows (@Windows) October 2, 2018
The company also shared a video highlighting how the app makes it possible to access texts and photos on your phone distraction-free:
If you like the look of the app, use the steps below to get started with it:
Fire up the Your Phone app on your computer via the Start menu.
Click Get started and then sign into your Microsoft account when prompted to do so.
Click the Link phone button, enter your mobile number and hit Send.
You should receive an SMS with a link to the Your Phone Companion app in Google Play. Tap the link and install it.
Launch the app on your phone and sign into your Microsoft account.
When you see a notification asking "Allow this phone to connect to the Your Phone app on [computer name]?", tap Allow.
In the Your Phone Companion app, tap Continue followed by Continue and then tap Allow to configure all of the necessary permissions.
With all of this done, you should see a notification on your phone that you're connected to your PC, and you're ready to start using the app on your computer.
At the moment, Your Phone is a little limited, but there is more to come. You can use the app to view your phone's photos and text messages on your computer. Click See photos and you can start to browse through the photos you have taken recently -- you can click a photo to open it, or right-click to copy or share via the context menu.
Beneath the photos button to the left, you'll find a shortcut to Messages. Click this, followed by See texts, and you'll be prompted to send a notification to your phone to configure the necessary permissions if you haven't done so already. As well as browsing through your recent messages -- but not all of them -- you can also click the New message button to send texts from your computer. This is not a free way to send texts -- you will still be charged as normal, or the texts will be deducted from your bundled monthly allowance -- but it can certainly be a great deal easier to type messages on a proper keyboard.