'Next-gen' HTML5 app LucidChart raises a million in funding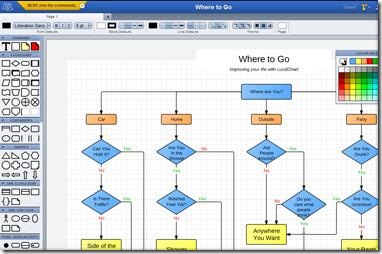 <!external href="https://www.lucidchart.com/">LucidChart is a fantastic example of how an HTML5 Web app can offer functionality comparable to a desktop application on any platform with an appropriate browser, and not even require a full-time connection to work. After having become the most popular paid app in the Chrome app store, and then launching full offline functionality at Google I/O this year, LucidChart on Tuesday announced it has raised a million dollars in seed funding from 500 Startups, 2M Companies, K9 Ventures, and other unnamed angel investors.
LucidChart was crafted in late 2009 to be the pure Web app version of <!external href="http://office.microsoft.com/en-us/visio/">Microsoft Visio, where multiple users can render and manipulate graphical charts in the Web browser in real time. It even has support for Visio .vdx documents.
By default, it's a free service that includes up to 25 MB in online storage and the ability to include 2 collaborators in a project and to view Visio files, but users can move up to different paid tiers which begin at $25 per month for 5 GB storage, unlimited collaborators, and other premium features such as a wider array of design templates and the ability to actually manipulate the .vdx files in a realtime, collaborative environment.
Even though it's a Web app, LucidChart walks an interesting tightrope between Web development and software development. When LucidChart CEO Karl Sun talked to Betanews last week, he said he still has doubts about computers that exist solely on the net.
"The Chrome Web Store has been a great distribution source for us and gotten us lots of users…but how useful is a computer that is only a browser when compared to something like a cheap laptop that has a browser in addition to all the other stuff?" Asked Sun. "I'm cautiously optimistic that there's a set of users that [the Chromebook] will be perfect for, but I don't think right now it's a great choice for the majority of the market. But hopefully as Web apps get better -and we consider LucidChart to be an example of the next generation of Web apps and what you can do in the browser-that will change."
Sun said this round of funding will be put toward growing his team.