Apple TV says hello Hulu Plus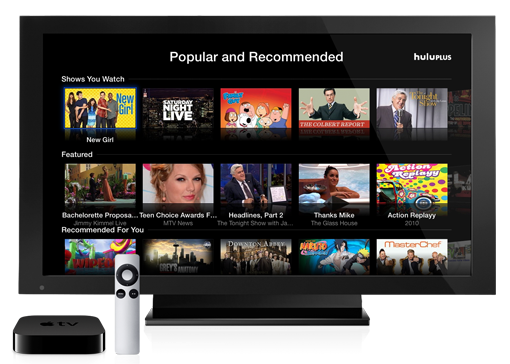 The Apple TV hobby just got one more service to add to its collection. Starting today Hulu, the ad-supported on-demand streaming video service, announced that its for-fee subscription offering is now available via a quick software update on the Apple TV.  Hulu Plus joins Netflix as strictly streaming service available on the set-top box.
Hulu and its owners, Disney, Comcast and News Corp., had little choice but to get Hulu Plus onto Apple TV as soon as possible. With Apple's new Mountain Lion update, anyone with an Apple TV could already  use the the new Airplay feature to "mirror" the free version of Hulu's website video onto their TVs. The basic website version of Hulu though does not offer features like a deeper content library and HD streaming.
Similar to Netflix on Apple TV, brand new Hulu Plus users can sign up for it to be charged via their iTunes account each month for $7.99 or log in via preexisting account as well if they already pay for it. But unknown is if, like Netflix, Apple will keep a portion of Hulu's monthly fee.
Hulu Plus has been available on competing devices like the Roku HD, Playstation 3 and Xbox 360 as well as several smart TV brands like Sony, Samsung, LG, and Vizio for quite some time now. The only other set-top device that still does not have official Hulu Plus support is Android-powered Google TV. Unofficially if you root your Google TV device you can just get the mobile app from the Google Play store.