Amazon unveils new hybrid drone prototype for 30-minute Prime Air deliveries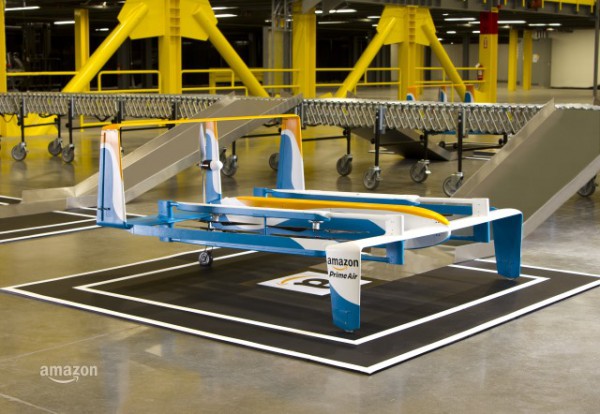 When you make an impulse purchase -- or you're just an impatient type -- time is of the essence. Next day delivery is far too slow, and same-day delivery has gradually spread to certain places. Some cities have the option of delivery within the hour, but Amazon is working on cutting this down to as little as 30 minutes with Prime Air.
As you would probably expect, these super-speedy deliveries will be facilitated by drones, and Amazon has unveiled a new prototype drone that blends elements of a helicopter with those of an airplane. Unlike other drones we've seen the Prime Air model is quite large, and is capable of carrying up to 5 pounds.
This is not a service that's going to launch in the immediate future; there are still many obstacles to overcome. The final design of the drone is yet to be decided, and Amazon is testing out models in the United States, the United Kingdom, and Israel. There is also the Federal Aviation Administration hurdle to jump. The FAA has said it is not keen for unmanned commercial drones to fly out of line of sight.
Amazon is keen to do everything it can to win over regulators, and boasts of the drone's "sense and avoid" technology which will be used to avoid accidents. From test flight footage, it appears that shoppers have to mark out a landing area in their garden which the drone will be able to detect and home in on, and it would seem that drone use would be best suited to more rural areas.
Amazon says:

Prime Air has great potential to enhance the services we already provide to millions of customers by providing rapid parcel delivery that will also increase the overall safety and efficiency of the transportation system. Putting Prime Air into service will take some time, but we will deploy when we have the regulatory support needed to realize our vision.
The company has also put together a video that shows off Prime Air, fronted by none other than former Top Gear presenter Jeremy Clarkson. Check it out below to see the hybrid drone in action: