Jobs Announces Mac mini, iPod shuffle

With his usual panache, Apple CEO Steve Jobs took the stage during his annual Macworld keynote and wooed the crowd with the latest in Mac wares. Among Jobs' many announcements were the oft-speculated $499 "Mac mini" and Flash memory based iPod shuffle.
For much of the presentation, Jobs kept attendees in suspense. During the first hour of the keynote, Jobs went through much of what Mac users already knew was coming - various demos of the new features of iPhoto, iMovie and other iLife products. Also demoed was iWork, which includes Apple's new word processing application, "Pages."
Jobs made it clear that the newest version of Mac OS X will come in the first half of 2005, adding to the crowd's delight that it will be "long before Longhorn."
But not everything went smoothly for Jobs during his Tiger demonstration. While showcasing the new Spotlight search technology in the upcoming operating system, Jobs was greeted with an error message. "That's why we have backup systems here," he remarked to the crowd.
In what can be called the most widely anticipated Apple announcement in several years, Jobs unveiled the Mac mini and iPod shuffle to cheers from the audience.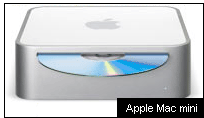 Measuring at half the height of the iPod mini, Apple's latest addition will sport a 1.25 GHz G4 processor, 256MB of RAM, and a 40GB hard drive. As previously rumored, the Mac mini will cost $499 USD without a keyboard and mouse.
A 1.4 GHz version with larger hard drive and added memory will be available for $599 USD. Jobs said that the new Mac will hit store shelves starting January 22.
Smaller than most packs of gum, the iPod shuffle weighs in at less than one ounce. The device packs 512MB or 1GB of Flash memory and a simple LED for button feedback, but no display. Unlike its hard drive based brethren, iPod shuffle can only play music at random or as full albums.
iPod shuffle uses a USB 2.0 connector for copying music from iTunes, which includes a new feature called Autofill that automatically selects tracks to transfer. Apple claims a battery life of 12 hours on the iPod shuffle, although an extender is available that adds another 20 hours.
The new iPod is available now in two models: $99 USD for the 512MB version and $149 USD for 1GB. iPod shuffle will be available immediately, and accessories, such as a dock, battery extender and car adapter will retail for $29 USD. Jobs says that he expects the add-ons to be available within the next four weeks.