TiVo Begins Testing of 'Pop-Up' Ads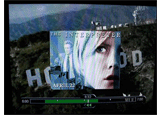 Much to the chagrin of many of its users, TiVo has begun testing out a new form of advertising on its subscription digital video recorder service. The ads were designed to appear on the screen while a user is fast-forwarding through commercials, but some TiVo customers say ads are popping up during TV shows.
The new billboard-style advertisements, which TiVo calls "Icons" or fast forward tags, come as the company faces increasing pressure to become profitable. Although subscriber numbers recently topped 3 million, most of TiVo's customers are coming from its now-in-doubt partnership with DirecTV rather than sales of standalone units.
According to reports on the TiVo Community Forum, some users are encountering the ads when fast-forwarding or rewinding during a recorded or live program, not just commercials. TiVo representatives chalked up the occurrence to a bug, but many TiVo users are still fuming over what they characterized as an intrusive feature.
For its part, TiVo has downplayed the significance of the new advertisements. In a knowledgebase article on the company's Web site, TiVo says "You can still see the video in the background when fast-forwarding or rewinding. The new icons only cover a small portion of the screen and are only visible for a commercial that is branded to display one."
But some customers disagreed with that assertion. "It's really hard to tell when a commercial ends and the show begins with this banner dead center. I thinks it going to kill my ability to accurately click play when a show begins after a commercial break," one user wrote on the TiVo Community Forum.
"The problem with this implementation is that the primary focal point of the content is being blocked, which destroys one of the primary features of the TiVo software/service: The ability to FF through a commercial and start where the commercial ends. If I can't see where the commercial ends, I can't stop at the right spot," the user added.
Despite a negative response from users, TiVo is unlikely to drop the new advertisements. "The TiVo Service is supported in part by monthly or product lifetime subscription fees, and in part by advertising on the service (Showcases, TiVo Central Promos, Fast Forward Tags)," a TiVo representative explained on the Community Forums.
For now, only owners of newer TiVos will see the advertisements, as software version 7.1 is required. TiVo officials say the size and placement of the ads may change, and the company is currently testing the feature with only one advertiser.