EU Consumer Protection Targets iTunes

On the eve of the announcement of a new Europe-wide consumer protection program, whose stated aim is to ensure consumers' ability to return products purchased online for refunds if they're not satisfied - regardless of what country they were purchased from - the lead architect of that program, EU Commissioner Meglena Kuneva, hinted to the German newsweekly Focus that Apple's iTunes service could be directly impacted.
One possible cause for consumer dissatisfaction may be the realization that music tracks purchased from iTunes are not portable across all digital devices or CD players. Last January, officials in Norway (not an EU member) declared iTunes illegal in that country for a multitude of reasons, the alleged non-interoperability of the underlying system being just one of them.
Another was the fact that Apple does not give iTunes customers any redress - a way to "return" downloaded material with which they're dissatisfied, for a refund. Consumers could become dissatisfied after learning of iTunes tracks' non-interoperability, only after they downloaded them.
The Norwegian government has given Apple until October 1 to change iTunes to comply with that country's interoperability laws - a ruling that does not appear to have Apple's engineers working overtime at present. But even if Apple could comply with that directive, it would still need to begin offering customers a way to receive refunds, perhaps within a 30-day term - what's being called a "cooling off period."
It's this kind of term which was ostensibly the subject of Kuneva's Focus interview, published this morning; though previews of the interview published online focused primarily on her iTunes stance. Reuters' translation from Focus' German-language online preview (her spoken language was probably English, not her native Bulgarian) of today's printed interview cites Kuneva as saying, "Do you think it's fine that a CD plays in all CD players but that an iTunes song only plays in an iPod? I don't. Something has to change."
But a later reference to the same interview, not circulated by Reuters but appearing in this morning's Xinhua Daily, directly attributes the something that must change not to iTunes' DRM, but to Apple's lack of a refund policy. The Focus preview quotes Kuneva as adding (translating from German), "To that end, we need a general period during which consumers may revoke their purchases, in order to get prices to level out [with those of competitors] and sales contracts to become more uniform."
Some news sources which failed to translate the entire interview today either praised Kuneva for championing the general anti-DRM cause, or took her to task for having failed to champion the cause nearly enough.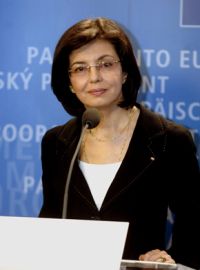 Last November, Commissioner Kuneva was granted responsibility for consumer protection. Her purview includes regulation of online commerce. Citing the startling statistic that only 6% of EU citizens shop online across borders, last month Kuneva announced a program aimed at the development of a single, uniform policy for redress that would alleviate consumers' fears that their grievances will not be heard due to their country of origin.
Such a policy would apply not only to EU member countries but to Web sites based in other countries -- including the US -- that include Europeans as their customers. Apple's iTunes would be one of the largest of those firms. Kuneva's recommendations for this policy are expected to come in the form of a "Green Paper" to the EU Parliament in Brussels tomorrow.
Digital rights management is not among the items in Kuneva's purview. So although her personal views on DRM are now clear, if tomorrow's Green Paper is open-ended on the subject of how it is that customers are expected to "return" downloaded music tracks with which they're dissatisfied, the policy she outlines could actually end up requiring some form of DRM (perhaps not necessarily a proprietary one) to enable redress to work electronically.
For instance, vendors such as Apple may be allowed to revoke the rights of users to listen to tracks which they "returned." For such a revocation policy to be feasible, a DRM system would need to be capable of rendering tracks useless after the so-called "cooling off period" has expired.
So while the effectiveness of Commissioner Kuneva's advocacy against DRM is being prematurely debated in the popular press, her Green Paper could actually present Apple and others with a potential payoff not for eliminating DRM, but for improving it. We'll know more early tomorrow morning.