Ashburn AT&T Store Leaves Dozens iPhone-less

For over 75 people lined up at the AT&T store in Ashburn, Virginia -- a major technology center and nearby to companies such as AOL -- excitement quickly turned to anger as dozens who waited over five hours were left without an iPhone due to the store's paltry stock of just 14 phones.
Ashburn seemed like a prime location to score one of Apple's lusted after new devices, which officially went on sale at 6pm Friday night. Nearby stores in Sterling and Reston, Virginia had lines nearing triple digits by mid-afternoon, but Ashburn is just outside the urban centers of Fairfax County - far enough to keep the crowds low, we thought.
Although its location was clearly more rural, Ashburn has become a key part of the growing Dulles corridor, and is a major tech hotspot. Equinix and dozens of other datacenters line the landscape, with Amazon, Yahoo and many others calling the city home - at least on the Internet. AOL is only a few minutes away by car.
We arrived just after 3pm EST only to find 30 people already lined up in front of the AT&T store; a handful had been waiting since 6am. Many in line had opted to skip the madness that would most-assuredly engulf Apple Stores at 6pm, and figured AT&T would have enough supply to at least cover those eager first adopters.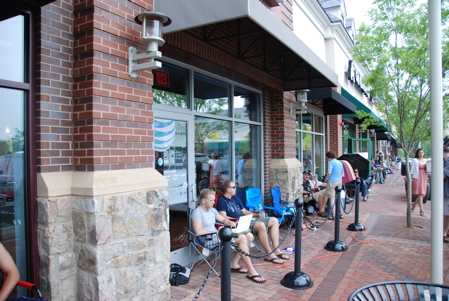 We took an informal poll of those waiting, most of whom worked in the technology sector: 8GB was the iPhone of choice; many, but not all, were Mac users; although they acknowledged the hype, most said they simply wanted a better phone; few in line were under 25, the majority were in their 30s.
Not everyone was jumping on Apple's bandwagon, however; one girl, whose father was eagerly waiting, proclaimed to all that the iPhone was "ugly."
When the clock ticked 6pm, the crowd cheered, but that would be the last positive exclamation. With only a sales staff of two, the AT&T store was entirely under-prepared to handle the iPhone launch and only allowed two customers in the door at one time. But everyone remained patient, and the AT&T employees indicated there should be enough for everyone - a very bad move in retrospect.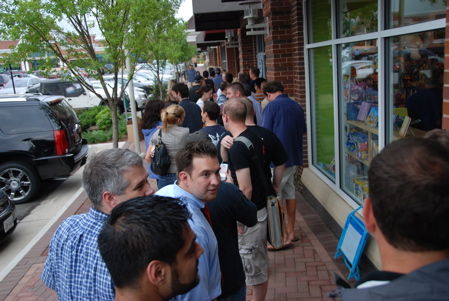 Then the computers crashed. AT&T's point of sale units began stalling out shortly after 6pm, slowing down the process even further. According to employees, the computers link up to a central database, which was having trouble handling all of the simultaneous iPhone sales on the East coast. By 6:45pm, only 8 people had walked out with an iPhone.
Another 30 minutes ticked by and it was announced that AT&T was out of 8GB iPhone models. 5 minutes later, a security guard emerged from the store and announced that 4GB models were now sold out, too. Only 14 people had been able to purchase an iPhone before stock was depleted.
After the initial shock wore off, anger soon followed, and over 60 people still in line began demanding answers. Why had AT&T employees let so many people wait for so long when they knew stock was so low? Why were there so few iPhones available? Were store employees siphoning off supply for some other means?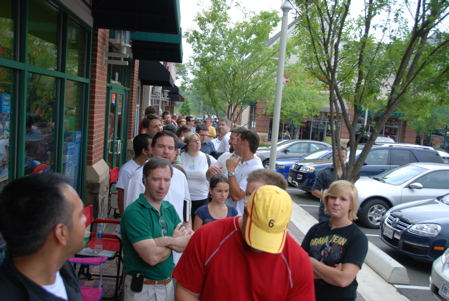 But yelling and pounding on the windows elicited nary a response. Line waiters confronted security guards and asked to speak with the manager. No one from AT&T came outside, perhaps fearing what an upset, iPhone-less mob of Mac geeks were capable of doing after waiting five hours in the heat and rain.
One consolation was offered: put your name on a list and the store would ship you an iPhone when more stock came in. Few took AT&T up on the offer.
As the crowd began dispersing an overwhelming theme was clearly heard: "We should have gone to an Apple Store." Although AT&T had made extra preparations, closed stores for an hour and a half, and even hired temporary workers, the wireless carrier was simply incapable of offering a positive buying experience despite Apple's best efforts.
Nonetheless, the day did not end on a down note for all. Many of those in line at Ashburn hopped in their cars and sped to Tysons Corner, the site of Apple's flagship store. By the time we arrived at 7:45pm, the Tysons Apple Store had served the initial line of 217 iPhone fans and another 550 thereafter. The store had plenty of iPhones -- both 4GB and 8GB -- available and interested buyers mobbed the demo units and well-prepared employees.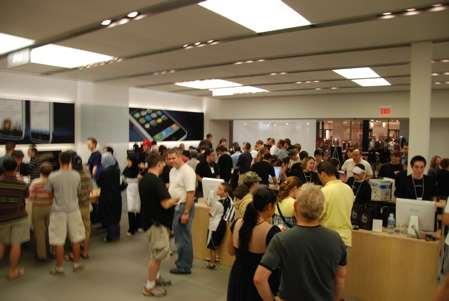 As of 8pm, no one knew exactly how many iPhones had been sold at Tysons Corner, but one Apple Store employee estimated the number to be nearing 1,300. Stock was being continually refilled from the back, and there was little doubt it would keep customers leaving with a smile until midnight.