AMD shows off its Puma platform beating Centrino

Although AMD didn't have a major presence at CES, the chipmaker did have a reference design of its upcoming Puma platform on hand to show how it out-performs Intel's Centrino platform.
Puma is essentially the company's new "Griffin" processor paired with an ATI graphics chipset and designed for laptops. It also adds a chip dedicated for high-definition video that sits right on the GPU. The platform will be the first to support DirectX 10.1 in a mobile environment.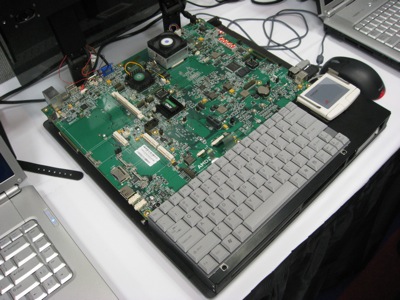 AMD's Puma prototype
The advantages that come with ATI's graphical prowess were fairly obvious when AMD showed high-definition movie playback on Puma and Centrino, along with gameplay tests. Puma had 50% less CPU usage than Centrino while watching a movie, and offered nearly 4x the frame rate as Intel's embedded graphics.
Battery life with Puma will also be improved by about 25 percent, AMD said, without sacrifice performance. This is due to the smaller package that comes from Puma's 55-nanometer manufacturing.
Unlike Centrino, AMD is not including a wireless chipset in Puma. The company claims it's better to work with experts in the field, such as Broadcom and Atheros, rather than try to develop its own wireless solution. The decision will also give the company flexibility when it sells Puma to OEMs, as well as move to newer wireless standards faster than its rival.
Laptops utilizing Puma will go on sale in the second quarter, although AMD has not yet announced specific manufacturers.
Intel, of course, is busy readying an upgrade to Centrino dubbed "Montevino," which it expects to launch in the middle of this year. Montevino is the fifth-generation Centrino platform and will compete with Puma.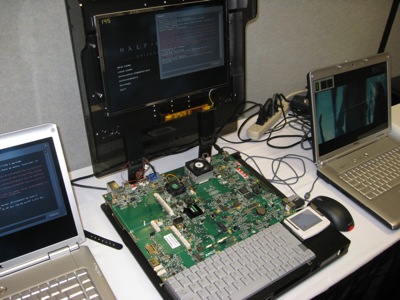 Puma out-performing Centrino