Digeo's Moxi all-in-one DMR finally goes retail

Digeo, maker of the Moxi software already available on 350,000 cable boxes has announced the upcoming retail availability of standalone Moxi DMR boxes, as well as partnerships with Flickr, Finetune, Accedo Broadband, and Cloverleaf Digital LLC, which will offer their services through the Moxi software.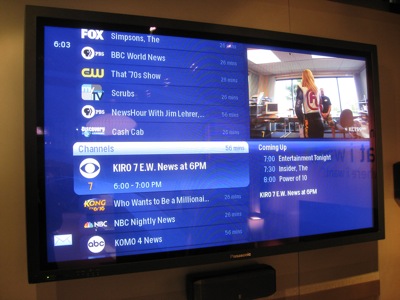 View images of the Moxi DMR boxes
The DMR, or digital media recorder, boxes will come in two iterations: a multi-room capable box that features two Cable Card slots for dual HD tuners. The Moxi Multi-Room HD DMR will go up against TiVo, but Digeo says its box does much more.
In addition, the Moxi Home Cinema HD DMR does not include Cable Card support, but does feature an over-the-air HD tuner, and support for unencrypted digital and analog cable.
Both DMRs will be available at retail soon at undetermined pricing, and feature DVR capabilities for recording and controlling live TV feeds, a combo CD/DVD drive, and wireless integration to the user's PC library. The boxes have RF in/out, HD Component and HDMI 1.1, S-Video, Composite, and S/PDIF Optical outs.
Through a new partnership with Flickr, users will be able to view photos stored on the site in HD. This is an addition to the current ability to stream photos from PCs, browse those stored in HD resolution on the Moxi drive, the size of which has unfortunately not been disclosed.
Finetune will be included in the Moxi Music feature, affording the approximately 2 million tracks housed on the service's site. Accedo Broadband expands the casual gaming functionality of Moxi by incorporating Sudoku, Texas Hold 'Em, Quizzmaster and more. Cloverleaf's contribution will give users access to full-screen web-based content optimized for TV, including news and sports from AP, Accuweather, and interactive television news through Cloverleaf's DotDaily.