Google Maps add radar-driven weather conditions

Want to know what the weather is like right now somewhere else? Today, you can just click around on a radar-enabled Google map to quickly get the lowdown on temperature, humidity, wind conditions, and a lot more.
When you're heading out of town, you're interested in what kind of weather to expect when you get there, right? Well, starting today, answering questions like that is as easy as clicking on a Google map, due to a new "mapplet" rolled out by The Weather Channel Interactive, Inc. (TWCI).
---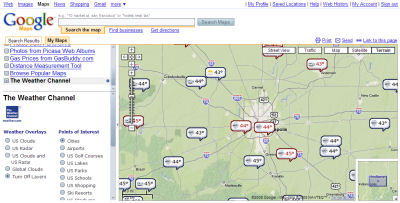 ---
Essentially, Google's map site now has a new weather data layer which is powered by The Weather Channel's HiRAD, a patented technology combining information from Doppler radar, satellite transmissions, computer models, climate profiles, and lightning strike detection systems.
Google's new radar-enabled weather maps aren't the only ones in the world -- but unlike some of the others, they're free.
Google's weather maps are cool to play with, too. You can manipulate what appears on the map display by using standard directional and zoom controls as well as by choosing from among a set of weather-enabled overlays: US Clouds; US Radar; US Clouds and US Radar; and Global Clouds.
By clicking on any of a number of "weather bubbles," you can get detailed HIRAD data about the city underneath the bubble -- including wind speed, temperature, humidity -- and you can also follow links to The Weather Channel for hourly, 10-day, and video forecasts.
By casually clicking around today on a map of Canada today, for instance, BetaNews quickly discovered temperatures as low as 24 degrees below 0, Fahrenheit.
But if there's weather at a point of interest which is considered really "severe" -- such as a bad storm -- the bubble will be displayed in red, and details of the weather alert will also be shown.
When hurricane season comes along, TWCI plans to add a Hurricane Central option, which will let users track an active storm on the map.
One competitor to Google's new free service, WeatherTAP.com, also combines storm tracking with radar and satellite imagery. But subscriptions to WeatherTAP.com cost either $6.95 monthly or $73.95 yearly, although free trials are available.