XStreamHD's ambitious plan for 1080p all-on-demand service

Scott Fulton, BetaNews: Easily among the most curious developments at CES this week was the Tuesday press demonstration of a device called XStreamHD. Conducting the demo was none other than actor Michael Douglas, who apparently succeeded in putting the polish on a presentation for a technology that's so ambitious that any other face or voice might leave attendees very skeptical.
Here's how the company touted its advancement on Monday morning:
From XStreamHD's press announcement: XStreamHD is leading the Full HD revolution with the first transport network to bring 1080p video and 7.1 channels of lossless audio directly to the home via satellite. Never before has there been a home theater experience that combines all of the features, quality, value, and convenience that consumers want. XStreamHD offers affordable access to the highest quality HD movies, music, broadcast TV, electronic games, and more - without the limitations of programming schedules, storage space, or physical media, and without the hassles of video rental stores, slow mail service, or out-of-stock titles. With XStreamHD, consumers will never miss the new releases or the broadcast HD content they love. The hottest movies and new releases are delivered via satellite, while vintage titles may be delivered over a broadband Internet connection.
Scott Fulton: Michael Hatamoto attended a separate XStreamHD event at the Bellagio in Las Vegas with technology partner Seagate, to see what all the hubbub was about.
Michael Hatamoto, CES Correspondent: The basic principle of the service is to help deliver 1080p and 7.2 channels of audio straight into the home of consumers who want to watch videos, TV shows, music, games and other services. There's a satellite antenna to capture HD content streams, a media server located inside the home to store titles, and a media receiver to be installed on the home network.
---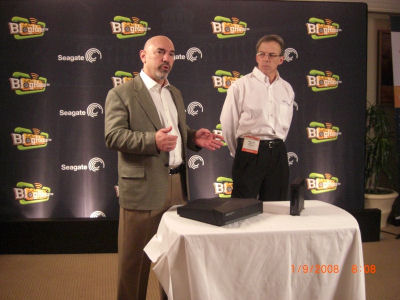 A demonstration of XStreamHD's inherent capability to rest quietly upon a tabletop, during a Wednesday event in partnership with Seagate.
---
George Gonzales, CEO and founder, XStreamHD, from a company statement: We've worked hard to address the real needs consumers have and find the solutions they're looking for. Today is all about Full HD. We are pleased to announce that we are the first to deliver Full HD and 7.1 channels of DTS-HD Master Audio, directly to consumers, via satellite.
Michael Hatamoto: Company executives expect XStreamHD will be available sometime around October 2008, in time for the Christmas sales rush. The basic package costs $399 and includes the Media Server and Media Receiver.
Scott Fulton: So, Sharon Fisher, does this look like it has a chance to revolutionize the industry --
Sharon Fisher, BetaNews Senior CES Analyst: Yea, or is it the biggest load of hooey since the Augean Stables?
It's kind of hard to tell. The company, which was announced just last November by George Gonzalez, the founder and president of iDirect, said it will use geosynchronous satellites to beam high-definition on-demand programming to users, who will receive it with a satellite dish, store it in a media server, and view it with an XStreamHD Media Receiver. Subscribers would pay a service fee every month of $13 or so plus an additional charge - about the same as a video rental -- to download a movie. The hardware package costs $399 and is supposed to be available by the end of the year.
Okay, she said skeptically...It raises some questions. Whose satellite are they using? Is this brand-new company launching its own? Where are they getting their programming? They told the Washington Post in November that they'd be making content partnership announcements at CES, but I didn't hear any. How long will it take to download a movie? Is the downloading fast enough to watch in real time or do you need to record it all first? How long is this brand-new company going to be around?
In short, what guarantee is there that one's $399 isn't going to disappear down a black hole?