EA experiments further with free, ad-subsidized games

EA announced today that it will be releasing a free online version of its Battlefield franchise, driven by advertisements and micro-transactions called Battlefield Heroes.
The main difference between Battlefield Heroes and FIFA Online is that there is no limit to the potential for in-game advertisements in the former. Ads in the football game are limited to only those companies who already are FIFA sponsors. The ads, fortunately, will appear in the front-end and not interfere with the aesthetics of the game.
Speaking of aesthetics, the graphics of the game has been reported to be simplified into a much cartoonier style, and gameplay is supposed to pare down the skill and strategy aspects.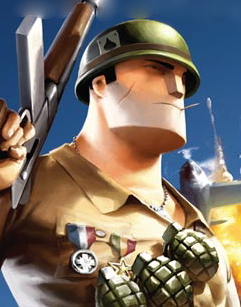 EA has said that even though Battlefield Heroes will be popular among casual gamers, the game will still be appealing to core Battlefield gamers with its deep character development. The game is scheduled for free PC download in Summer 2008.
Two years ago, EA released a free version of its FIFA football franchise in South Korea, intended to be made profitable strictly by in-game purchases by users. Today, the game boasts over five million users who generate roughly one million dollars of income for the company per month. While users who spend $15-$20 a month on unlocking gear and buying stat upgrades in the game are in the minority, Gerhard Florin, EA's executive Vice President for publishing says the minority is "sizable."