NVidia premieres its ninth-generation GPU

With generational shifts in graphics processors taking place almost every 12 months now, instead of the 18 months GPU manufacturers prefer, the value proposition becomes more difficult each time. Yesterday, NVidia hoped it could make a play to the mainstream buyer.
The company's ninth generation of graphics processors burst onto the scene yesterday, in the form of the GeForce 9600 GT card, the first unit to feature its GeForce 9 series GPU.
With a moderate pricetag estimated to be around $199, NVidia claims the 9600 to be "HD Gaming for the Masses." However, this is not to say that enthusiasts will not also take note when considering processing-per-dollar.
The specs revealed yesterday for the 9600 GT reference card read as follows: 64 stream Processors, a core clock speed of 650 MHz, shader clock speed of 1625 MHz, and a memory clock of 900 MHz. The card's 512 MB of 256-bit memory has a bandwidth of 57.6 GB per second, and a texture fill rate of 20.8 billion per second.
If you're familiar with NVidia's nomenclature, you'll note right away that the "6" in the second digit, and the absence of an "X" at the end, indicates this will not be the high-end card in the product line, or in that of any of NVidia's OEMs. But SLI configuration will be an option, the company said.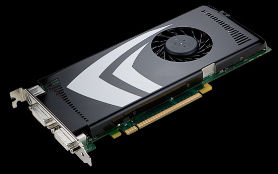 The GeForce 9 GPU is designed for the PCI Express 2.0 bus architecture, but devices on this standard feature backwards compatibility with former PCIe motherboards by design.
News of the new line of GPUs has been circulating since before Christmas, and some sites are already claiming this card to be the best in its class when weighed against competitors.
Additionally, the 9600 GT features NVidia's trademarked PureVideo HD acceleration, which speeds up the decoding and post-processing, and Dynamic frame-by-frame contrast enhancement.