Dell challenges Panasonic in rugged notebooks

Today, Dell announced the availability of its Latitude XFR D630, a ruggedly designed notebook meant to serve as competition to Panasonic's Toughbook.
Though it cannot claim to have made the strongest nor first rugged laptops, Panasonic's Toughbook line of computers undoubtedly is the most recognizable rugged laptop brand on the market today. Dell, however looks to be moving in on the territory, by making direct challenges to Panasonic's performance.
Dell's Latitude XFR D630 meets the oft-cited MIL-STD 810F, or the Department of Defense-certified standard of toughness. MIL-STD is a series of specifications that cover resistance to different conditions including pressure, temperature, and humidity variance, fungus, fog, sand, dust, acceleration, shock and even gunfire.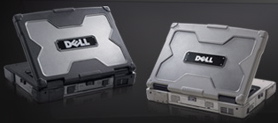 The new notebook line features a sealed keyboard, shock-mounted solid state drive, a 14.1" widescreen LCD display designed for outdoor use by outputting 500 nits (sRGB standard luminance is 80 nits, most LCD displays go up to 300), and ExpressCharge batteries, which Dell claims can achieve an 80% or greater charge in 60 minutes.
The XFR directly challenges Panasonic's CF-30 in its initial marketing push, claiming 23% greater performance with its 2.2 GHz Intel Core2 Duo T7500 processor against Panasonic's Intel Core2 Duo L2400 running at 1.66 GHz.
Availability of the XFR begins today, starting at $3,899.