Bank of America, AT&T top identity theft study

UC Berkeley's Center for Law & Technology has released a study revealing the need for corporations, especially Bank of America and AT&T, to accurately represent the threat posed to their customers.
Chris Hoofnagle, Senior Fellow at University of California, Berkeley's Center for Law & Technology (BCLT), co-authored the study which took complaints filed with the Federal Trade Commission in January, March, and September of 2006. In that year alone, the FTC recorded 246,035 identity theft-related incidents. For the three months in the study, there were 88,560 among 44,262 institutions.
The companies which had the most complaints against them were: Bank of America, AT&T/Cingular, Sprint Nextel, JP Morgan/Chase/Bank One, and Capital One.
Due in part to Bank of America's much larger customer base, it had the highest amount of complaints in total: 3,351 for the months surveyed. When extrapolated to encompass the whole year, it amounts to 13,404 instances of identity theft, or roughly one every 40 minutes, 24 hours a day, every day.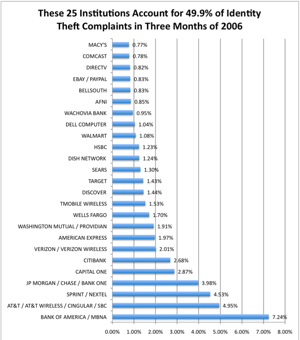 However, when put in context of the billions of dollars deposited, Bank of America averages 17 instances per billion, which was actually not the highest reported frequency-per-dollar. That figure was exceeded by smaller financial institution HSBC, which experienced 21 instances of identity theft per billion dollars deposited.
Telephone companies AT&T and Sprint experienced similar amounts of compromised customer data, with the former totaling 2,290 events, and the later 2,095. Assuming those trends continue, the collective entity could expect as many as 17,540 threat reports per year.
Though it does not specify what type of complaints were filed regarding cell phones and a person's fraudulent identity, the FTC typically hears such complaints of imposters: Perpetrator opened an account under the victim's name, charged calls, fees or services to the victim's account, or purchased cell phones or related equipment on the victim's bill.
The study goes on to say that if these figures were made readily available to the public, consumers would be more likely to choose institutions based upon their security record. This, in turn, would encourage competition for better security, benefitting customers and institutions alike.