Internet Explorer 8 Beta 1 goes live

FROM MIX 08 - At last, we'll all be able to see "Standards mode" for itself, and whether the new default operating mode for Internet Explorer truly adheres to written W3C standards as Microsoft now says it has bound its browser to do.
There's a lot of activity surrounding the public release of Beta 1 of Microsoft Internet Explorer 8...and we mean that quite literally. While its general appearance is not in as stark a contrast with its predecessor as IE7 was from IE6, there is one prominent feature about it that developers such as Scott Guthrie were proud to show off this morning in Las Vegas: It's called "activities."
In a similar sense to how right-clicking on an object brings up a list of commands, in what has been called the "context menu" or, from time to time, the "actions menu," IE8 has come up with a way for content suppliers outside of an active Web site to supply functionality to terms inside of a Web page. It's through an activities menu which is loaded in advance into IE8 using an XML-based template. Users can then right-click on content from anywhere to see a list of services that may pertain to it, or they can choose those same services from a new Activities button on the IE8 toolbar.
---
Download IE8 Beta 1 for Windows Vista from FileForum
Download IE8 Beta 1 for Windows XP from FileForum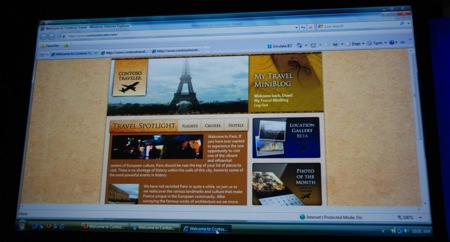 ---
"An example could be that you are on the Web site of a local dealer and are interested in buying something there," writes Microsoft architect and evangelist Alexander Strauss on his personal blog this morning. "Unfortunately this dealer has no delivery service and also does not have a store locator. So in that case you would usually take the address and get directions using a mapping tool of your choice. Now you could do the same with a mapping activity. But now the big difference is that you can do it in the context of the dealers Web page. Just mark the address, right-click, and choose the mapping activity of your choice."
Continuing the tradition of "embrace and extend," IE8 also borrows a few features made popular by other browsers, albeit renamed. WebSlices, for instance, provides a means for serving up a small chunk of content either as a subordinate part of another Web page, or through a perpetual link. That link can reside in IE8's newly renamed "Favorites Bar," which now not only holds bookmarked pages but also general shortcuts to everyday files. (Mac users will note a similar feature in the Safari browser called WebClips.)
The Phishing Filter has reportedly been expanded to become the Safety Filter, and promises to encompass other possible malware threats. And IE8 has now been endowed with an automatic crash recovery (ACR) system that can pull content back up after a restart or reboot.
As a Microsoft white paper published just today reveals (PDF available here), the new system won't just pull up the lost Web page, but anything you may have been typing into that page at the time the browser or system crashed.
"Contextual work is 'soft work' that is manifested in the state of the browser," the white paper reads. "It may not be as painful to lose this type of work, but it is nevertheless frustrating when it happens...The ACR feature will help prevent contextual and compositional work loss in the unlikely event of a crash, hang, or an accidental application closure."
BetaNews will be learning more about Internet Explorer 8 throughout the week, as our coverage of MIX 08 in Las Vegas continues.