Steve Ballmer on Google, Yahoo, Apple and more

FROM MIX 08 - In his Thursday afternoon keynote at MIX, Microsoft CEO Steve Ballmer sat down for a one-on-one chat with former Apple employee and Alltop co-founder Guy Kawasaki. We've condensed the discussion down to the key points.
- Current status of the Yahoo deal: "We've made an offer! It's out there baby."
- Ballmer on why Microsoft wants to buy Yahoo: "Search is the killer application for online advertising...We're not where we'd like to be, we probably could have gotten going a little sooner, particularly on search and search related advertising."
- Ballmer says Microsoft is "the little engine that could" in the online space. But he notes that Google is not in desktop, not in enterprise, and not in gaming yet. "Online, it's Google, Google, Google," Ballmer acknowledges. "We are an underdog in this particular battle."
- Ballmer on Apple: "Apple does a good job. Apple does a nice job in music players. They're going to continue to do good work and we're going to continue to compete with all the vigor and energy."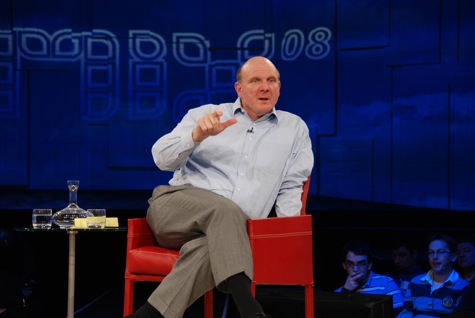 - Ballmer on the Facebook deal: "For us, not only having small partners but having big partners is very important." Microsoft is "happy to be an owner, happy to be a partner."
- Ballmer drives Fords, and is offended by the suggestion that he has a few hundred million dollars in the ashtray of his Lexus. "A few hundred million is not a small amount of money," Ballmer says, "but for a company who's making 60 billion dollars a year in revenue, it's not a huge amount of money."
- What drives Steve Ballmer? 1) "I love what we do... I'm jazzed about Silverlight 2... We get to be at the forefront of changing the world, and that's exciting." 2) "Working with fun folks." 3) "I enjoy challenge. I couldn't sit at home and work on my golf game. I like good challenges and we've got them."
- What does Steve Ballmer do all day? He has three types of days: 1) Spending 11 hours with customers. 2) Spending all day in meetings. 3) Slower days with a few meetings in which he has a chance to think and research.
- "Microsoft doesn't buy people planes, that's the chihuahua," Ballmer says, referring to Apple as the little chihuahua dog that Microsoft has to keep kicking away.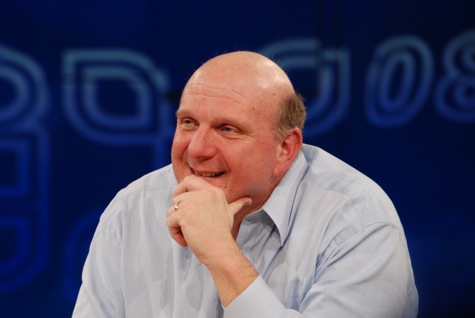 - Ballmer gets 60 to 70 pieces of e-mail a day. His e-mail address is [email protected]. He has no secretary or virtual assistants filtering his e-mail.
- Ballmer on Bill Gates going part-time: "We don't exactly know what that means, 'part-time.'" The company will be led by five or six key leaders, but they are still working out the specifics.
- "Most of the great innovations [at Microsoft] don't come from Bill. They come from people in the company."
- Becoming rich wasn't the motivating factor for people coming to work at Microsoft. "People made a bunch of money [at Microsoft], but almost always, people thought they wouldn't."
- Ballmer on the MacBook Air: It's "missing a bunch of features."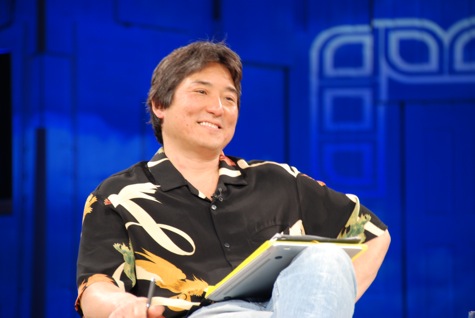 - Ballmer on Firefox and IE: "We're investing as heavily as we ever have. There's a lot more of the IE8 story to be told, when we talk about end user features."
- No new Internet Explorer coming for the Mac. "We feel like it's smarter for us to do new things rather than bringing another browser to the Mac," Ballmer says.
- Ballmer says social networking is not a fad.
- If and when Microsoft joins with Yahoo, it doesn't make sense to have two of everything. Some of the technology will come from Yahoo, some will come from Microsoft. "So those PHP apps? We'll be running them," Ballmer says.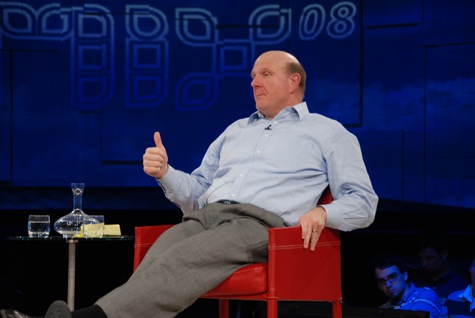 - Ballmer uses a variety of Windows Mobile phones: Motorola Q, Samsung BlackJack, HTC Dash.
- Web developers, Web developers, Web developers.
- Microsoft wants to put Silverlight on the iPhone if it's possible, but Apple wants royalties from developers to use its platform.
- "Health is the only vertical where we've chosen to dig in deeply," Ballmer explains. This is because it's the largest industry in the world and least well served in IT. "We have to figure out as a society and as an industry what is it really going to take to bootstrap consumer health."
- Ballmer on HD DVD: "We thought there was a lot of merit to HD DVD. We worked to provide an HD DVD peripheral. As the industry moves forward, we want to support Blu-ray. Toshiba's moved on, We've moved on. We'll support Blu-ray in ways that make sense."
- Ballmer says Microsoft is glad to see Exchange supported by the iPhone, as it makes the platform more valuable.