Sun's new UltraSPARCs boast 32x the computing density of x86 servers

Sun Microsystems and Fujitsu today jointly announced two new UltraSPARC T2 Plus servers: The SPARC Enterprise T5140 and T5240 represent the third generation of Sun's CMT multithreading, whose key selling point remains energy efficiency.
"We have seen CMT [chip multithreading technology] expanded to the processor level," a Sun spokesperson told BetaNews. "Sun really created CMT technology with the original 'Niagara' architecture and continues to lead in the CMT space with the UltraSPARC T2 processor."
What Sun's spokesperson is referring to is the company's own approach to on-chip parallelism: creating processing "strands" that manage segments of instructions as though they were complete processors. Think of them as fully simulated "cores," though Sun prefers not to use that Intel term.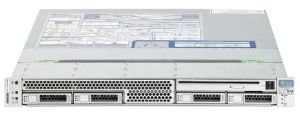 Both of Sun's new x86 systems are dual-socket and offer up to 128 compute threads per server and 5,120 threads per rack -- up to 32x higher compute density and up to 4x higher performance than competing x86 systems, according to Sun.
Formerly known as Niagara 2, Sun designed the UltraSPARC processor to utilize CMT floating-point performance along with overall processor clock speed, which Sun believes helped expand the processor level. CMT was first launched in 2006, and has been extremely successful for Sun.
To show its dedication to the open source community, Sun promises to open up its UltraSPARC T2 Plus processor to the developer community, though it may be Sun that will be looked to, in order to foster such a community into self-sustenance.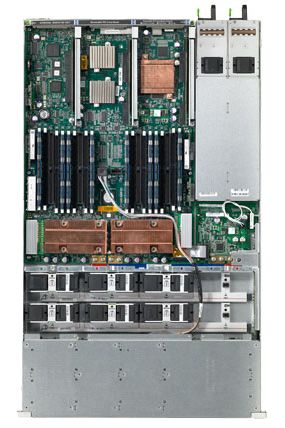 Sun's SPARC Enterprise T5140 offers 128 compute threads in a one rack unit (1RU) chassis, supporting up to 64 GB memory. The T5240 offers 16 cores, 128 compute threads, 16 disk drives, and up to 128 GB memory in a two rack unit (2RU) chassis.
"From both an innovation and revenue standpoint, CMT has been very important for Sun," the company told us. "When we announced the UltraSPARC T2 processor it was the world's fastest commodity processor. Last quarter, UltraSPARC T2 systems, grew over 100% year-over-year to approx $285 million. We believe that all processor design is moving toward CMT, and Sun has demonstrated its ability to execute."
Using virtualization technology, each system can handle 128 virtual servers per system, which is up to 5,120 virtual Logical Domains (LDoms) per rack.
In addition, the Santa Clara-based company will ensure its software, programs such as Glassfish, MySQL and Java, are fine-tuned specifically for the hardware.
Both products will be available through Sun's "try and buy" program, which allows customers to Sun products for free for 60 days before purchasing the product for a major discount. Pricing starts at $14,995 for the Sun SPARC Enterprise T5140, and $17,995 for the Sun SPARC Enterprise T5240.
Sun and Fujitsu worked together to create the UltraSPARC processor line, but Sun has been quicker with new product launches.