WD premieres ultra-fast VelociRaptor 10,000 rpm HDD

Making an AMD-like play for the cost-conscious computer enthusiast, Western Digital has found a way to release what should be a laptop drive, but repackaged for the desktop builder at what could be perceived as a respectable price.
Typically the notion that smaller is faster applies to the microprocessor realm, but today, hard drive manufacturer Western Digital is demonstrating that notion applies to storage as well. This week, WD is premiering its first 10,000 rpm enthusiast-class hard drive; and to accomplish its transfer speed, rather than try to rev up a conventional 3.5" form factor, it's taking a 2.5" HDD and encasing it in a 3.5" form factor heat sink.
The VelociRaptor 300 is a 300 GB device that plans to make better use of its 3.0 Gbps SATA II interface, which nearly all enthusiast-class drives have today but never really utilize. This morning, WD is claiming the VelociRaptor can withstand a sustained transfer speed of 120 MB/s, which would indeed set new standards at the high end.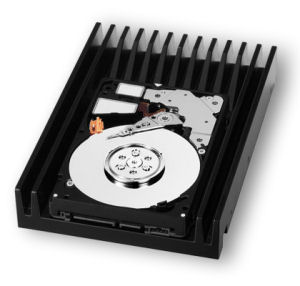 Whether it's actually reached 120 MB/s is a matter for independent testers to determine. This morning, AnandTech's Gary Key is reporting that in his team's tests, the drive's average sustained transfer rate only hit 98.4 MB/s. That could be due to what his team believes to be a drop in transfer rate on the platters' outer perimeter, clearly visible in the screenshot Key provides.
A similar pit is visible on a chart posted this morning by Tom's Hardware's Patrick Schmid and Achim Roos, though they don't say much about it. In fact, their tests show that even with the performance pitfall -- which WD explained to AnandTech's Key was due to a problem in the early drives' firmware -- the VelociRaptor still outperforms Seagate's competitive, enterprise-class Savvio 15K.1, by a score of 102 MB/s to 91.7 MB/s. That's important, because the Savvio is a 73 GB drive rotating at 15,000 rpm, and smaller drives are typically faster -- the Savvio does have a faster access time than the VelociRaptor's 7.0 ms, in Tom's tests, by 1.4 ms.
Another reason that's important is because the Savvio currently sells for a street price of about $330, while WD is positioning its drive with 411% the size at $300. Seagate is selling its 15,000 rpm drives for enterprises that need rapid transfer times for servers, while WD is making an obvious play for gamers in the consumer market. That said, it could actually make a dent in the enterprise market -- especially if it's fixed its firmware problems and can demonstrate even better performance -- when the first units begin shipping next month.