NBC, not Fox, will provide political news for MySpace

In the burgeoning field of social networking, the prominence of the major players' brands is extremely important. But what signal does it send when a sister company of Fox pairs with NBC for its political news coverage instead?
In another curious signal of how warm the mood has been of late between NBC Universal and News Corp. -- normally considered direct competitors in the television space, though they're partners in the online video service Hulu -- the MySpace unit of News Corp.'s Fox Interactive Media division has decided to feature political content from NBC News.
BetaNews discovered this afternoon that this isn't exactly a social engineering gadget. Rather, it's a politics Web page on the MySpace.com domain accessible through an ordinary hyperlink via MySpace and MSNBC.com. While the latter normally hosts its own video -- and even now makes that video freely embeddable in Web pages, like YouTube -- the new, shared "Decision '08" page has NBC and MSNBC television video hosted by MySpace.
With one of the last major Democratic primaries taking place in Pennsylvania only today, the efficacy of the new page's "Candidates" section seems questionable, when the time to have met the candidates was arguably at least six months ago, when there were so many more of them.
---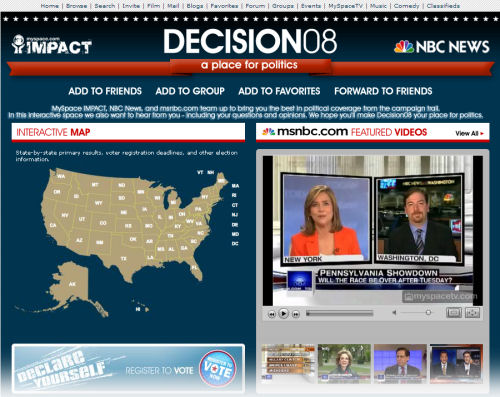 ---
MySpace this morning characterized the new page as a key component of its MySpace Impact channel, which is geared to provoke young users to become more active participants in their real-world communities. A check of that page this afternoon showed one section of that page was devoted to content from MSNBC, including links to the four remaining presidential contenders (Clinton, McCain, Obama, and Paul)...with significant space left over.