Cross-platform Ruby on Rails gets SaaS management tool set

With the number of Ruby developers projected by Gartner to more than quadruple to 4 million by 2013, start-up New Relic is getting into the act with an application management service for Ruby on Rails (RoR) that runs cross-platform.
Already in use among high profile Web sites that include Twitter, Hulu, and Helium.com, Ruby on Rails is an open source, database-driven Web application framework -- geared to ease of use and high productivity -- based on Ruby, an object-oriented programming language derived from Perl. Now, New Relic is launching a software-as-a-service (SaaS) package for Windows, Mac OS X, and Linux, for managing applications created in the emerging cross-platform Web development environment.
In private beta since late January, New Relic's new Rails Performance Management (RPM) service is slated to enter general availability within the next 60 days, said New Relic CEO Lewis Cirne, in an interview this week with BetaNews.
Cirne told us that RoR is gaining favor among both small and large Web sites. "It's amazing how quickly RoR is being adopted by the development community. But we're targeting sites that are doing at least 100,000 transactions per minute," said Cirne, who previously founded Wily Technology, a vendor of J2EE application management tools then sold to CA in 2006.
"I was a big fan of J2EE. But with RoR, we're seeing a two to three times productivity bump," BetaNews was told.
---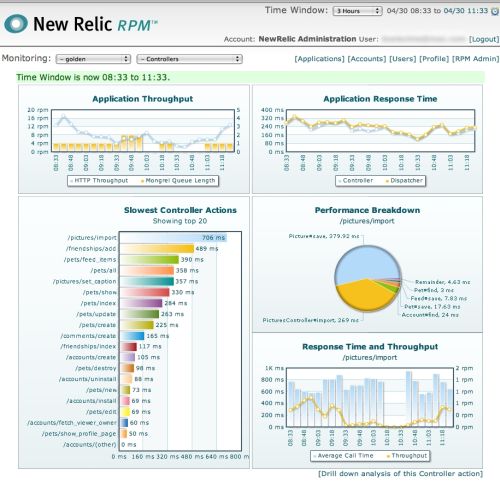 ---
Aside from Windows, RoR also runs on most distributions of Linux. In late 2006, Apple announced plans to ship RoR with OS X 10.5 "Leopard."
The Gartner Group industry analyst firm recently predicted that the total number of developers writing for Ruby worldwide, including hobbyists, ISVs, and corporate IT professionals, could break the four million mark in five years' time.
"Without RPM, though, the application development team doesn't really know what's going on inside [RoR] applications. It's like flying blind," Cirne contended. This week, New Relic announced 3.5 million in first-round venture funding from Benchmark Capital for the new SaaS service.
In the private beta, RPM is being tested by 51 customers. After the beta, New Relic plans to move to a subscription-based model, although the details on that are still being ironed out.
But with RoR already available free of charge -- both over the Web and with OS X -- why would companies want to pay for an application development management service? Without that investment from developer customers, they're forced to rely on cumbersome tools such as log files and parsers to diagnose problems with application performance, according to Cirne.
RPM, on the other hand, uses agent-based technology that "sits inside the application," reporting to developers in real-time, he said.
"It will give you a list, for example, of your slowest applications. It will tell you how applications are spending their time, and how they're using the database. And it will tell you the kinds of things to watch for in database operations," he illustrated.
Not surprisingly, New Relic has built RPM entirely in RoR. "So that, in itself," Cirne said, "is a proof-of-concept."