Lavasoft broadens its malware scope with Ad-Aware 2008 releases

---
Download Ad-Aware Free 2008 version 7.1.0.7 from FileForum now.
---
It was perhaps the first great advertising tracker purging system, and may have single-handedly redefined the public's notion of malware. Now, Ad-Aware is growing up, becoming more of a fully-fledged anti-virus product.
What it means to have "secure" computing, from the perspective of the consumer, is changing -- perhaps evolving -- as users perceive unwanted advertising and spam as a more directly pressing issue than malicious payloads. As a result, the different categories of "anti-malware" packages are continuing to merge, as evidenced this morning with the addition of anti-virus capabilities with the commercial editions of Ad-Aware.
For years one of FileForum's most popular downloads, Ad-Aware's free 2008 edition premieres this morning. And starting today, the key premiums for paying customers of Ad-Aware Plus and Pro editions ($26.95 and $39.95, respectively) will include general anti-virus capability, which will also encompass new rootkit detection features, and live scanning of incoming Web streams for Pro users.
In BetaNews tests this morning, we confirmed that the Free edition of Ad-Aware 2008 still contains the ability to automate scans for tracking components at system startup. Essentially, the executable file for the free and commercial editions (at least for the Plus edition, we believe) appears to be the same one, the difference being that paid users will enter their license numbers during installation, while free users will click the Use Free button instead.
The difference there may be only slightly shocking: One of the installation options that appears to be available even for Free users -- maintaining a constant scanner in the system tray, like a real anti-virus program -- forces the Free edition to respond later with a warning that the option isn't actually available.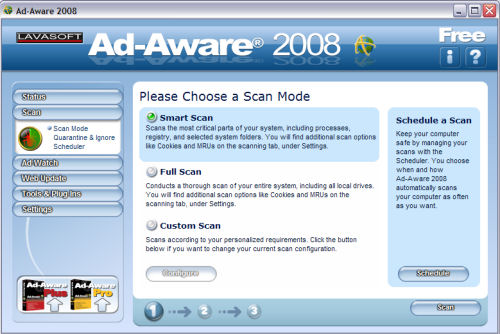 The new front console is big and self-explanatory, unlike the comparably miniature panel of earlier versions. Though the capability to perform customized and scheduled scans appears to be present at first, they're really...well, they're ads, to be honest, and now you're aware of them. Those features are only available with paid licenses, which is fair if only a little...ironically annoying.
Although our initial tests only involved Ad-Aware Free 2008 on a relatively clean virtual XP SP3 system, we did notice the signature scan feature appeared to be faster than before. Deep scanning of the local system registry remains one of the slow features, as is scanning inside .CAB archive files, though the process still appears thorough.