Sony to offer 'Graphic Splash' for select Vaio FW notebooks

Sony's upcoming Graphic Splash notebooks will be based on the Vaio FW multimedia PC introduced this week, and they'll be available for sale online for a limited time this fall, BetaNews has learned.
In announcing a "new line-up" of Graphic Splash notebooks on Wednesday -- plus a related contest -- Sony didn't specify whether the decoratively cased PCs will use any of the four Vaio models unveiled on Wednesday as its underpinnings, or whether they'll constitute a separate model. Photos accompanying the announcement appeared to show the new designs on the company's existing FZ series notebooks.
But a Sony spokesperson told BetaNews today that, beneath its graphical cover, the Graphic Splash will be the same as the Vaio FW, a multimedia PC that features an unusually sized 16.4-inch LCD display aimed at optimized viewing of Blu-ray movies.
If you'd like to try to get a Graphic Splash PC for free, you can submit your ideas for a notebook cover to a contest co-sponsored by Sony and Microsoft. Ten finalists will each win a Graphic Splash.
Sony also plans to sell Graphic Splash FW notebooks online some time this fall. "We haven't decided yet on the exact dates of availability or the pricing, but the Graphic Splash will be an FW, and it will probably be a mid-end model," according to the Sony spokesperson.
---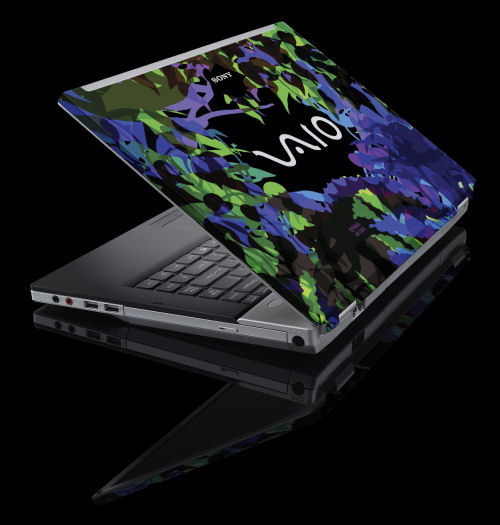 One of Sony's 'Graphic Splash' designs for its FW-series notebooks, this one called "Grow."
---
But if -- like a lot of people -- you don't really care what the cover of your notebook PC looks like, the FW is slated for availability during the first week in August in conventional gray or white. Although orders won't be filled until then, end users can see the FW -- in addition to other new Vaio models -- at "Sony Style" stores, BetaNews was told.
At entry level pricing of $1,000, the FW will actually cost less than either the fashion-oriented SR, which starts at $1,400, or the Z model, an ultra-mobile PC which will be priced beginning at $1,800, without its options for a solid state drive (SSD) or readable/writable Blu-ray drive. Pricing for the FW, though, can go as high as $1,700, depending on configuration.
The business-oriented BZ model also starts at $1,000, but that one will only be available through VARs and direct marketers.
---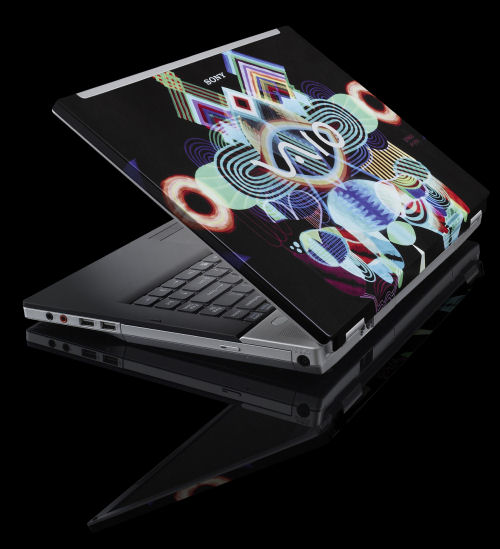 This particular design is called "Never Stop."
---
In an interview with BetaNews at a Sony press event on Monday, Nobuyasu Nozawa, senior product manager, explained Sony's reasoning for choosing a 16.4-inch display for the FW, instead of a more typical 15.4- inch screen or 17-inch widescreen. A lot of Blu-ray movies are shot using a 16:9 aspect ratio, and the FW's screen is constructed with the same dimensions so as to minimize black lines, Nozawa said.
Weighing in at 6.4 pounds including battery, the FW ships with a 250 GB hard drive, up to 4 GB DDR2 SDRAM, and a choice of either the built-in Mobile Intel Graphics Media Accelerator or an optional ATI Mobility Radeon HD 3470 or processor, according to spec sheets obtained by BetaNews.
Units also come with HDMI connectors for hooking up to HDTVs and DLNA-enabled Vaio Media software for streaming video to other devices on home networks. Other features include a built-in 1.3 megapixel camera; integrated Bluetooth and 802.11n Wi-Fi; standard card slots; and an optical drive supporting more than a dozen CD and DVD formats.
Sony also produced a Graphic Splash limited edition earlier this year, based on its VA notebook. The 1,200 notebooks in the limited edition VA series used designs by visual artist Maya Hayuk, who will be one of the judges in the FW contest.