Nokia E71 reaches US with hopes to take on BlackBerry, iPhone

Nokia has made its E71 smartphone available to North American consumers, in the company's latest attempt to successfully crack into the smartphone market outside of Europe.
The E71 has a full QWERTY keyboard, 2.4-inch LCD display, built-in 3.2-megapixel camera, microSD memory card slot, and a multimedia player. It connects both to HSDPA and GSM networks, and has WiFi and GPS connectivity. Most notably, the E71 is only 0.39-inches thick, which makes it the thinnest full-QWERTY device available to consumers in North America.
Nokia's E71 predecessor was the E61i, which did not have a full QWERTY keyboard, instead opting for a sliding phone design.
Along with the entertainment value of a digital camera able to record video and a music player, the phone also has the "Ovi" service that includes Nokia Maps and Share on Ovi. Nokia Maps 2.0 and integrated A-GPS will help owners utilized the built-in GPS technology on the phone, offering color maps high-detailed images.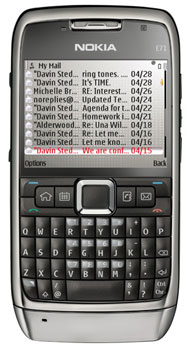 E71 owners will be able to sync the phone with Mail for Exchange, Intellisync, along with consumer e-mail accounts, such as Gmail, Yahoo Mail and Hotmail.
Nokia offers several solid smartphones, but the company has had a difficult time trying to penetrate the North American market that is dominated mainly by the RIM's BlackBerry line. As the first E-series Nokia phone to support 3G, the E71 will compete with Apple's new iPhone 3G in addition to the BlackBerry Bold.
In anticipation of competing with RIM in North America, Nokia has dropped the BlackBerry Connect application from the E71. This allowed Nokia phone users to access corporate e-mail systems that used the BlackBerry service. Nokia says it wants to push users toward more open e-mail systems, rather than the closed solutions offered by providers like RIM.
Nokia officially introduced the E71 during a private event at its midtown Manhattan retail store last week, and plans to launch a marketing blitz to help promote the phone.
Without a contract, the Nokia E71 is available now for $500. As of yet, no United States wireless operator has announced plans to sell the E71, but AT&T may be the only candidate, as T-Mobile has yet to launch its 3G service nationally. That could make life difficult for Nokia, as the iPhone 3G is also being pushed by AT&T.