Huge correction: More opposition to Yahoo's Yang than first tabulated

In an error literally akin to finding the "0" key stuck on your typewriter, a major securities service admitted it had problems adding values ranging into the hundreds of millions, in its tabulation of Yahoo shareholder votes last Friday.
The provider of securities processing services to seven of the US' top ten brokerage firms, according to an SEC filing, admitted late yesterday that it did indeed make a serious error in the tabulation of shareholder votes for Yahoo board members during its shareholders' meeting on August 1.
The error, acknowledged yesterday by Broadridge Financial Solutions, affects any column of the voting tabulation that requires nine digits to tabulate. For an unspecified reason, nominee board members who received per-share votes for or against totaling a nine-digit number had votes removed from their "against" column and moved to their "for" column. The number of votes moved was itself a multiple of 100 million shares.
If you're wondering how a "truncation error," as Broadridge characterized it, involves a power of 10 rather than the usual power of 2 reflects most database errors, the answer apparently involves the dynamics of the system: Shareholder votes were tabulated on paper.
As the firm's senior vice president, Chuck Callan, admitted yesterday, "Upon review, it was determined that there was a truncation error in the final printout sent to the tabulator. This resulted in the underreporting of shares withheld for certain directors. This error did not change the outcome of the election of directors, and was determined to be an isolated incident."
Broadridge was forced to re-evaluate its original tally after a major Yahoo shareholder, Capital Research Global Investors (with an estimated 6% stake in the company), issued a public complaint and challenge early yesterday, stating the share tally against CEO Jerry Yang should have been higher. (The actual vote count among specific Yahoo shareholders is kept secret.)
---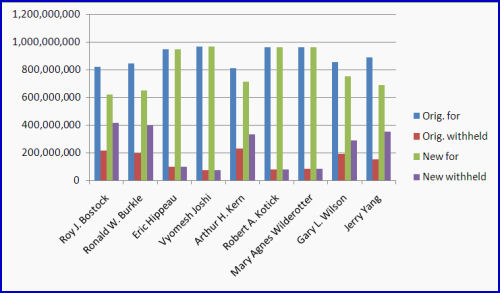 A chart showing exactly who benefitted from the Broadridge tabulation error in the Yahoo shareholder vote August 1.
---
Curiously, the directors most affected by the truncation error included Yang and Chairman Roy Bostock, along with private investor Ronald Burkle. These three directors were originally reported to have had exactly 200,000,000 fewer per-share votes withheld (not voted up) than in the adjusted final tally. Former Northwest Airlines Chairman Gary L. Wilson and American Media publisher Arthur H. Kern's tallies were also adjusted, giving them each 100,000,000 more votes withheld. Tallies for all other board members, whose withheld votes were lower than 100,000,000, remain intact.
In a blog post for IR Report this morning, securities business consultant Dominic Jones stopped short of throwing his hands up in disgust over the admission that, in this day and age, a major securities firm can get such a big digit wrong. "Despite assurances from the company that the gaffe was an 'isolated incident' or 'unique,"' Jones wrote, "the fact that Broadridge is so vital to the integrity of the US corporate proxy voting system means that errors as basic as a system not being able to print numbers with more than eight digits should not be easily excused."
A double-check of Broadridge's revised figures by BetaNews shows its revised tally of the new vote split -- the number of shares withheld compared to the number of shares cast -- to also be slightly in error, though not by much. The number of withheld shares against the re-election of Chairman Roy Bostock was actually 39.93%, not 39.6% as reported late yesterday.
But although this doesn't mean the upset of any of Yahoo's board members, it's still a far cry from the cakewalk that BetaNews reported Monday, based on Broadridge's original tally. At that point, it seemed Jerry Yang had sailed through with 85.4% of shares cast; in actuality, he passed with just under two-thirds of shareholder support, at 66.25%.
In a statement to the San Jose Mercury News this morning, Yahoo denied playing a role in either the tabulation error or the tabulation process as a whole.