AOL and Nullsoft relaunch Shoutcast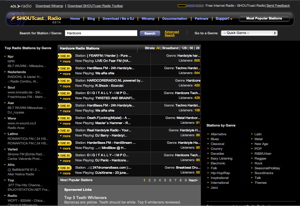 After a brief delay, AOL and Nullsoft's Internet radio service Shoutcast has launched its overhauled and upgraded site, in addition to receiving a number of goodies.
Shoutcast has received <!external href="http://blog.shoutcast.com/category/site-news/">an official team blog, site skinning, and <!external href="http://www.yourminis.com/minis/yourminis/AOL/mini:shoutcastradio">an embeddable widget, as well as an upgrade to its popular Winamp portal.
Notably absent from the layout is Nullsoft's logo. Faisal Sultan, product manager of Shoutcast APIs, said this morning, "Due to some issues we couldn't place the Nullsoft logo as we are working on a lot more visual and feature improvements and additions to the site and services. But don't worry, its coming. As a member of the original Nullsoft / Shoutcast team I know how important it is to the overall Shoutcast community."
The upgraded layout has cleaned up and reduced its station lists. When searching, you'll notice results are yielded in tens instead of twenties, and the ability to arrange by bitrate has been changed into listing only individual bitrates: All, Broadband, 128, 56, or 28. "Jump To: Quick Genre" can also been replaced by advanced search tabs, which add genre and bitrate qualifiers to searches.
Some users complained in the new Shoutcast blog that these changes are an impediment, so <!external href="http://classic.shoutcast.com/">Classic Shoutcast has remained available (pictured below).
<!image id=1987 center>