Imation readies a wireless USB external hard drive

Imation's upcoming high capacity Apollo Pro WX external hard drive will exchange files wirelessly with devices that include a four-port docking station from Kensington and XPS and Latitude laptop models from Dell.
NEW YORK, NY (BetaNews) -- At a holiday preview press event in New York City last night, Imation rolled out the Apollo Pro WX, the first external hard drive to be certified by USB Implementors' Forum (USB-IF) for wireless USB.
Imation's new high-capacity drive is aimed at fast backup and storage of data, photos, music, and videos on home wireless networks, said officials of USB-IF and components supplier WiQuest, speaking with BetaNews at Pepcom's Holiday Spectacular event.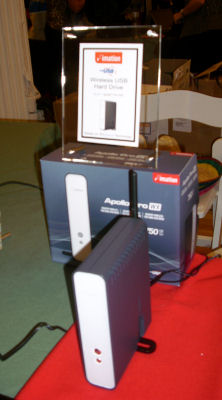 Compatible with Windows and Mac, the external drive is designed to work with other devices certified by USB-IF for wireless USB. So far, devices announced in this category include Kensington's four-port Wireless USB Docking Station and XPS and Latitude laptop PC models from Dell, BetaNews was told.
The Apollo Pro WX is part of a family that also includes two external hard drives without wireless capabilities: the 3.5-inch Apollo Pro and 2.5-inch Apollo Expert.
Set for release in the fourth quarter, the three devices will be offered in storage capacities ranging from 250 GB to 1.5 TB, according to a written statement from Imation. Each drive will come with an integrated swivel stand allowing for either vertical or horizontal orientation.
The WX will also ship with auto backup software for backup scheduling, restoration, and synchronization. Other capabilities will include a one-touch sync button, capacity gauge, data activity indicator, and external power supply.
Unlike some other Apollo models, the WX will not include a FireWire or eSATA interface, according to a product spec sheet distributed at the Pepcom show.