Charm City awaits Xohm: Baltimore could be among Sprint's first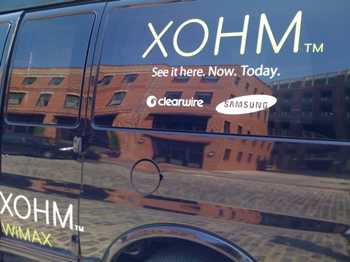 So we've seen Sprint's Xohm trucks driving around downtown Baltimore during most of September, in anticipation of the service's impending launch. But as the month nears its end, there's still no launch announcement.
BALTIMORE (BetaNews) - Rumors have recently circulated that Sprint's Baltimore Xohm network would be announced as soon as this Friday, with availability beginning on October 6 and with Baltimore, Maryland being an early rollout target. Sprint told Betanews this morning that the September launch for Xohm in Baltimore is still firm, so at most we've got one week before getting Sprint WiMax.
Clearwire, on the other hand, told us that the transaction combining the two companies has not yet closed, so anything Sprint does with Xohm at this point is its own business.
Sprint's WiMAX network has come to an extremely slow boil. The project was announced <!article id="1126892952">three years ago, and has since been plagued with consumer <!article id="1196800945">doubt and speculation on its future. The uncertainty was bolstered by the current economic situation, Sprint's <!article id="1210620804">high customer churn, and the company's inefficacious <!article id="1218475270">offloading of the Nextel iDEN network.
In the spring, <!external href="http://newsreleases.sprint.com/phoenix.zhtml?c=127149&p=irol-newsArticle_newsroom&ID=1141088">Sprint Nextel partnered with Clearwire to form a new company dedicated strictly to expedite the deployment of the US' first WiMAX network. With a reported <!article id="1210181201">$3.5 billion in funding from Intel Capital, Google, Comcast, Time Warner Cable and Bright House Networks, the new company -- to be simply called Clearwire -- would set out to build a nationwide 4G network with both companies' WiMAX offerings.