Latest WebKit build gives Safari a 100% score on Acid3

---
Download Safari for Windows version 3.1.2 from FileForum now
---
BetaNews has verified through its own testing that the latest build of the open source WebKit rendering engine, version r36882, makes Apple's Safari for Windows pass the Acid3 rendering test from the Web Standards project: 100%.
Our tests involved a virtual Windows XP Home SP3 machine running on Microsoft Virtual PC 2007 SP1. First, we installed a fresh copy of Apple's Safari for Windows version 3.1.2. From there, we ran the latest Acid3 tests prior to installing the latest WebKit build. By itself, Safari 3.1.2 for Windows only scored a 75% -- better than some of its competition, although Opera 9.6 for Windows scored an 85% on the same test.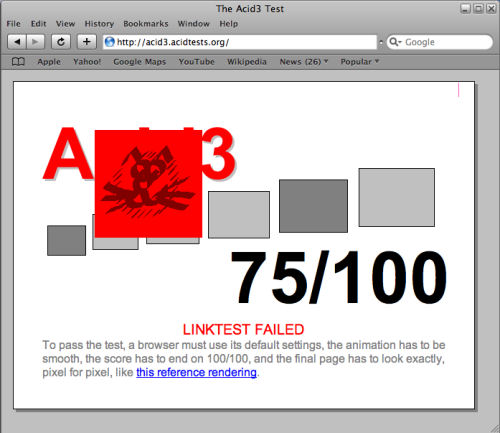 With nightly builds of WebKit, there's a batch file which automatically searches for the installation location of Safari, and writes the necessary libraries and associated files on top of the existing ones. (That routine would not work similarly for Google Chrome, which also uses WebKit as its rendering engine; recent builds of Chrome actually use older builds of WebKit, which score more poorly in standards tests.)
Immediately after running the batch file, Safari launches itself. When we ran the test a second time, in a mere few seconds, we were greeted with a perfect score.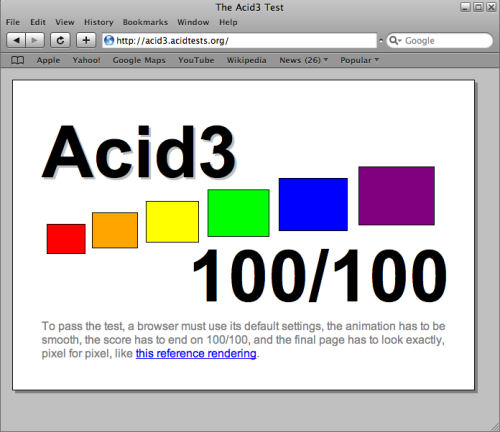 In celebrating the news late yesterday, WebKit's developers noted that the rendering time took only a third of a second on a 2.4 GHz MacBook Pro. In our tests, the rendering was substantially slower, but that was because we were running on a virtual machine. Still, 1.77 seconds is respectable time for rendering under these conditions.