Finally, Nero will let you make your PC into a real TiVo

The final step in making your PC into a TiVo is about to be bridged. Today, Nero AG -- makers of the famous desktop CD and DVD authoring software -- announced its LiquidTV TiVo-for-PC package.
The package includes a Hauppauge USB ATSC TV tuner and USB IR transceiver with paired remote control. LiquidTV offers most of the features of a standard TiVo DVR: online scheduling with the integrated Electronic Programming Guide, recording of up to two shows simultaneously to the hard drive, HD and standard image quality, and support for as many as four tuners.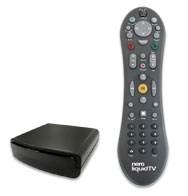 Unlike the standard DVR, however, content navigation is not limited to remote control, and unique mouse and keyboard commands have been added. Also, the software has the ability to export recorded media to portable devices supporting .tivo, MPEG-2, MPEG-4 (H.263 + H.264), AVI, and WMV files, or burn-to-DVD.
Initial availability will be limited to North America (US, Mexico, Canada) and will be available in Best Buy, Fry's, Circuit City and Office Depot in the US Purchase of the product includes a one year subscription to TiVo and will retail for $199.99 USD/CAN. A software-only version will be available for $99.99. The software will support both laptop and home theater PC setups.

Many enthusiasts may be wondering, can I take my old PC and retrofit it into a TiVo? It's certainly possible, but if your old CPU is single-core, the requirements will actually be a little steep: For HD signals, 3.0 GHz Pentium 4 or AMD Athlon XP 3200+ for analog channels and digital HD channels, or 2.0 GHz Pentium 4 or AMD Athlon XP 2000+ for digital SD channels. So a dual-core CPU is certainly preferable at any clock speed.
Storage requirements are: a minimum of 40 GB available space for HD recordings (roughly 5 hours of content), minimum of 20 GB available hard drive space on a separate partition for TV recordings, EPG data storage, and temporary DVD files (amounts to about 10 hours of recorded content).