New Sony Reader includes touch, but no wireless

Yesterday evening, Sony officially announced its third generation Reader e-book, equipping the over two-year-old product design with an upgrade that includes tactile sensitivity.
Competition in the e-reader market is getting exciting as we approach 2009. One by one, companies are rolling out their latest offerings, each incrementally building the list of standard features in the devices.
Sony has added the PRS-700 to the top end of its Reader product line, the first of the company's e-ink display products to include finger- and stylus touch capability. As if leafing through a book, readers can swipe their finger across the screen to turn pages, or to pull up an onscreen keyboard for annotation and search.
Still without a backlight, this reader comes equipped with its own LED reading lights that shine on the front of the screen. Unfortunately, the Reader still lacks wireless connectivity, considered the "must-have" feature of the Amazon Kindle, but content can be imported via USB or placed on Memory Stick Duo or SD removable media. Sony says the PRS-700 will be available in November for around $400.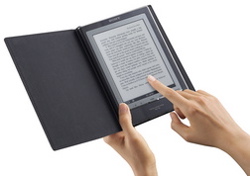 Dutch e-reader maker iRex announced its own touchscreen e-paper readers last week (PDF available here), called the iRex 1000 series. While these devices offer touch capacity as well as wireless connectivity, they also come in at the top of the pricing scale at $650 to $750.
Plastic Logic opened the first factory dedicated strictly to the commercial production of e-paper products. Its touchscreen e-reader (which presently lacks a name) is expected to hit the market in early 2009.
Evidence has yet to be confirmed that the Amazon Kindle -- considered the gold standard for e-paper devices, as it has greatly hastened their adoption -- will see an updated version before the holidays, despite the rumors.