Microsoft rolls out SDK for Surface interface

Love that giant touch-sensitive electoral map on MSNBC? Want one of your very own (or have a better idea)? Developers at PDC are readying their multitouch mojo as Microsoft today released the software development kit for the Surface interface.
It's a long way from a hacked Ikea table to parody on Saturday Night Live's Weekend Update, but here we are. The project presented to Bill Gates in prototype form back in 2003 is already in use on a few early deployments, but distribution of the SDK to up to 1,000 developers signals that the Vista-based platform is ready to expand considerably, with consumer-app availability likely within 3-5 years.
Access to the SDK goes to any developer attending Monday afternoon's "Developing for Microsoft Surface" presentation or dropping by the hands-on Surface lab. ("Hands-on," nice, we get it.) Of course, the hardware is part of what makes the Surface special, and hardware developers in need of the appropriate gear can purchase a 30"-diagonal Microsoft Surface, five licenses and developer support for $13,500.
The MSNBC map is perhaps the most high-profile Surface development currently in use, though AT&T customers have encountered them at some store locations, and some Sheraton patrons will have seen them in their stays at that chain. Attendees this week will get a chance to play with working models on the show floor and in that lab. A scavenger hunt is also planned, with developers scampering around with ID-tagged cards to which the Surface units respond.
---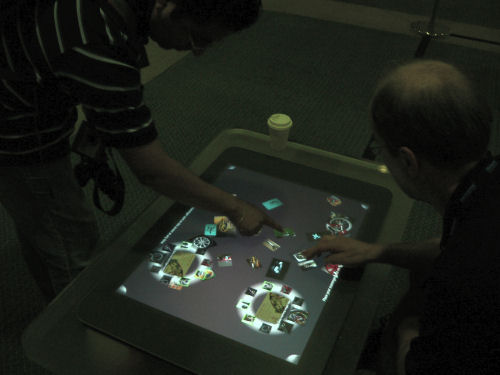 Microsoft's Surface, as demonstrated in a table set up in one of the lounges at PDC 2008.
---
Developers thinking about the Surface possibilities are, for now, constrained to that 30" surface, which is no inconsiderable piece of technology. It's based on a rear-projection system that displays a screen image on the underside of a diffuser. An infrared "grid" is also displayed on that underside, and infrared cameras are positioned under the table surface. When an object -- fingers, a paintbrush, a bar-code tag, whatever -- intersects that infrared space and triggers the cameras, an image processing system figures out what the object is and passes the info along to the application for action. For now, Surface units are horizontal, but in time the company expects a greater variety of sizes and orientations.
In a statement relayed through a Microsoft spokesperson, Brad Carpenter, general manager for the platform, said, "With 18 Surface units at PDC, including a hands-on lab, the partner and developer community now has the opportunity to learn about application development for Surface and how to maximize the unique attributes of surface computing -- multi-touch, direct interaction, object recognition, and multi-user capabilities."