AT&T opens public beta of video search app

AT&T today began the public beta phase of VideoCrawler, a search and organization portal for rich Web media.
Powered by Divvio's "click-2-crawl" rich media indexing technology, VideoCrawler does not host content, but rather creates searches for relevant items hosted on the increasing number of dedicated content provider sites and allows them to be viewed from AT&T's portal. AT&T claims its search base is currently over 1,600 sites.
Searchable content is not limited to Web video, either. Queries can be made in audio, video, Internet radio, TV, and games, feeds, slideshows, or ringtones.
VideoCrawler has a gadget-based layout where the windows can be rearranged or eliminated based upon the user's preferences. Because of this, VideoCrawler can be used to search for other content while watching a video, something that many other sites do not currently allow. However, the algorithms used in searching yield the most popular results from the most popular sites first, which means the majority of results will come from YouTube and MySpace Video and will not necessarily be the best.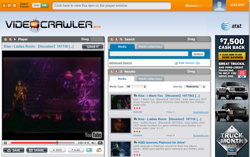 For example, a search for "Family Guy" -- consistently one of the most viewed programs on Hulu -- turns up user generated videos and "screen tapes" from YouTube. Similarly, a search for "Amazing Race," a program with clips available on CBS.com in HD, turned up YouTube and MySpace user videos first. YouTube recently began testing full-length CBS programming on its site, but most of BetaNews' searches through VideoCrawler yielded short-form amateur video first and most frequently.
The site does not require membership for use, but registered members can use VideoCrawler to create personalized playlists of content culled from its searches.