CEA analysts: Holiday spending to rise for mobile phones, GPS

NEW YORK, N.Y. - Although consumer sentiment about the economy is at its lowest in 15 years, a number of consumer electronics products will actually pick up momentum over last year's spending during the 2008 holiday season, CEA analysts contended, at a press conference today.
In CEA surveys in September and October, consumers said their overall holiday spending -- beyond just the consumer electronics category -- will drop 14 percent compared to 2007. But fourth quarter spending on consumer electronics goods will actually climb 3 percent this year, said Tim Herbert, one of the analysts, during a day of pre-CES press activities.
Computer sales will fall by one percentage point, but many other CE products will rise: mobile phones by 11%, video games by 5.6%, audio/video (A/V) systems by 3.9%, and GPS and in-car video by 30%, for instance.
The CEA also identified a couple of trends supporting what it sees as consumer willingness to spend money on consumer electronics during the 2008 holidays.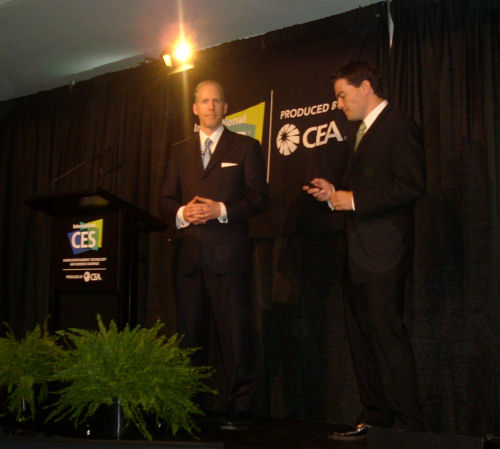 Left to right, CEA analysts Steve Koenig and Tim Herbert.
In a poll, 61% of respondents told the CEA that CE products are becoming "increasingly important" in their lives, according to Steve Koenig, another CEA analyst. Another 49% acknowledged that they plan to do "cocooning" with CE products in the coming months.