Mozilla updates its Fennec mobile browser alpha

---
Download Mozilla Fennec Alpha 2 for Windows from FileForum now.
---

Apple's Safari for iPhone truly did raise the bar for the Web browsing experience for mobile devices, though it may not have redefined the way browsing should work there. Mozilla Fennec continues its work on that goal.
While Opera continues to make incremental inroads as an ever more reliable, serious Web browser for multiple platforms, Mozilla's approach to a mobile version of Firefox is to take a more deliberate, calculated, innovative big step forward. The organization wants to create a rational, sensible new model for using a Web browser on a small form factor, and its unorthodox tactic for achieving that goal is to perfect the concept on a simpler test platform first -- ordinary PCs -- before moving it to multiple mobile platforms and conquering the implementation problem.
Last week, Mozilla released its so-called Alpha 2 of Fennec, its mobile browser experiment; and yes, it does remain available for one mobile platform in particular: Nokia's N810. Besides that, you'll find its test edition available for Windows, Mac OS X, and Linux.
As was the case when we tested Alpha 1 last October on a Windows XP Professional-based virtual machine, you have to pretend that your mouse pointer is your finger on a touch-screen device, which for Fennec is turned sideways in landscape mode. While we expected to see some further experimentation in the usage model with Alpha 2, what we found instead was improved performance -- albeit not on the browser's future native platform -- using pretty much the same usage model that Alpha 1 introduced.
Fennec's gamble is that mobile users won't mind having to scoot the page over in order to find the functionality he needs -- a bit like spreading one's papers out over a bistro coffee table in an attempt to get work done. You have to get used to the idea that the address bar can be beneath whatever's on the top edge, a history of saved pages is outside whatever's on the left, and the Back and Forward buttons, and your typical menu bar categories, is outside whatever's on the right.
In earlier builds -- at least in our tests -- scrolling the Web page down covered up the address bar (by design), but pulling it back up meant scrolling all the way to the top. That can be a kind of rowing motion, like flipping down a Rolodex wheel. With Alpha 2, the address bar flips back on whenever you scoot the page to the left or the right to see the saved pages or menu commands, respectively -- and that's much more convenient. Here in Fennec, the address bar doubles as the title bar.
We're still having trouble with the notion that a thumbnail of a page represents that page along the left side bookmarks panel; on a small device, thumbnails are not reliably unique identifiers. Of course, the problem for now is finding a place for text that would otherwise identify the page -- beneath the address along the top? Along a new and thus far undefined status bar along the bottom? Alpha 2 hasn't resolved this question just yet.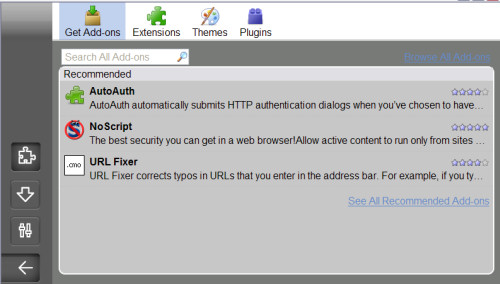 The Options screen (obtained by tapping the cog icon in the right panel) gives a clearer indication of Fennec's heritage as an extension of Firefox. Here you can find extensions, plug-ins, and themes (though none for Fennec are ready just yet), in an arrangement that Firefox users will be familiar with.
Indeed, rendering with Alpha 2 has improved significantly, which at the very least makes this a more viable experiment. Double-tapping the screen zooms in every time -- this was a problem with Alpha 1. And right-click double-tapping the screen zooms back out...Now, you think that might be a problem. Exactly how will this mobile browser be expected to interpret a right-click? Different finger? A separate finger being held down over a control key? If Mozilla's interest is truly in making mobile browsers functional with one hand (the other one, after all, may be busy holding the phone), why would it assume in this particular case that this functionality problem could be resolved with a control key?
Along those same lines, Mozilla may need to start thinking -- for an Alpha 3, let's say -- about the whole problem of typing. Many mobile devices that don't have their own built-in keyboards instead have their own on-screen implementations, which may or may not interfere with how Fennec would work. Assuming the phone was capable of deferring to Fennec for its on-screen keyboard, where would it go and how should it work? Right now, entering a URL into the address bar also brings up a history panel where users can choose pages the browser has already seen -- a nice shortcut that works well and is very handy. But if the user is typing on an on-screen keyboard, there might not be room for such a panel. And if the handset brings up an on-screen keyboard that overlays the address bar, how will the user see what he's typing?
These remain serious questions, though we're happy that Fennec continues to demonstrate itself as a serious effort at resolving them, through community involvement.
---
Download Mozilla Fennec Alpha 2 for Mac OS X from FileForum now.
---