AMD's 45 nm midrange Phenom IIs aim to regain the performance lead

Last month, the one-time price-performance leader introduced its first desktop-class, upper-tier 45 nm Phenom II processors. Today, AMD is readying its midrange CPUs in that category, with a strategy that just might work.
As far as process generations are concerned, AMD is one big step behind Intel already, with that company's Core i7 architecture starting to incorporate almost everything AMD used to champion -- including a built-in memory controller -- while also using 32 nm lithography. AMD's strategy to contest Core i7 is looking clearer: Erase the perceived advantage of Core i7 by challenging its performance at lower price points, and enticing customers in the value segment with the prospects of one extra core.
AMD is staying with its triple-core proposition, but this time it's bolder than in late 2007, when it tried to eke out a price point for triple-core that was, at times, as narrow as eight bucks. In other words, for a few dollars more, there was quad-core. This time, it's making more sense: The distinction between the company's new Phenom II X3 series, and new Phenom II X4s at the low end of like frequency, is about $30. Meanwhile, dual-cores along with the Athlon brand are being pushed out more toward the value segment.
"Some of the market perceives our original triple-core as a crippled quad-core," admitted AMD's desktop marketing manager David Schwartzbach. "It's not a crippled processor; in fact, it's in every [Microsoft] Xbox 360. But when we re-validate the presence of triple-core for the market by bringing out Phenom II, it's going to make more and more sense. This wasn't a one-time shot from AMD; this wasn't a way to consume fallout from quad-core production. The vast majority of the products we sell as triple-core are fused from the factory as triple-core from inception."
But is thirty bucks -- even though the gap is larger than it was last year -- still big enough to plant a value proposition? For just a few dollars more, a consumer could have that fourth core. As AMD's senior marketing manager for client platforms Bob Grim told us, there's another very important customer that this question doesn't take into account.
"When you look at the component channel market," Grim said, "it's largely an educated market. People buy for specific reasons -- because it's an unlocked part, because its performance is fantastic, because customers want a processor that really shines in digital media. I think there are a lot of reasons in the channel that this is going to make sense, especially given the fact that [Phenom II X3] has the performance [numbers], to back up everything else that it has going for it."
Sticking with a plan that's worked before for the company, all of AMD's Phenom IIs may introduce a new socket (AM3) that's compatible with DDR3 memory, though they remain socket compatible with AM2+ motherboards that use DDR2.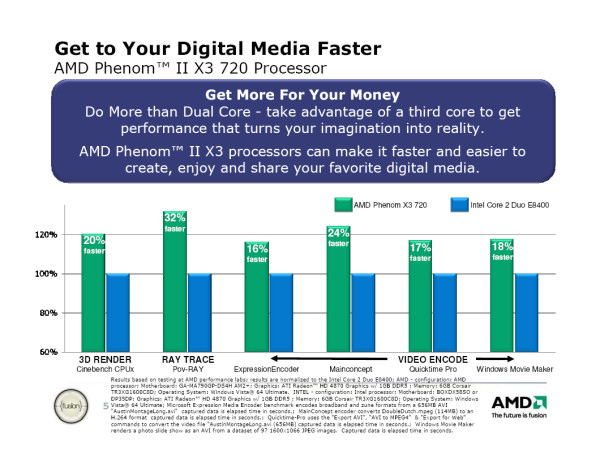 As part of its value proposition, AMD is comparing its new 45 nm 2.8 GHzPhenom II X3 720 with three cores against Intel's 45 nm 3.0 GHz Core 2 Duo E8400 with two cores. The X3 costs $20 less at $145 in 1,000-unit quantities (street price may be just higher), but AMD claims an 18-30% performance advantage in various rendering and digital media encoding benchmarks. Granted, that's just one department, and independent tests will flesh out the performance distinction with more general benchmarks.
The case will be tougher to make for the quad-core 2.6 GHz Phenom II X4 810 at $175. Pitted against Intel's Core 2 Quad Q8200 at 2.33 GHz at $170, AMD is claiming a 6% performance lead in the more general PCMark Vantage benchmark. (AMD's numbers for Intel don't exactly jive with what independent testers have seen -- in fact, AMD gives Intel a higher number than we've seen -- so we've asked for clarification.)
Intel's case going forward is that both performance and power savings can be gained from an investment in Core i7 architecture, which is moving now from 45 nm to 32 nm. AMD's mission is to negate the appearance of that advantage.
"If you want Core i7 technology, you have got to go to DDR3 memory, which means you've got to go to a new motherboard infrastructure," Schwartzbach told Betanews. "So there are three forced transitions there, all of which contain cost premiums, and we just didn't feel like that was the right approach for these economic times, or for our customers who really want flexibility in how they make those changeovers."
All AMD's new midrange processors unveiled today are 95W units. Both of AMD's triple-core CPUs have 6 MB of shared L3 cache plus 512K of L2 per core, for 1.5 Mb total, with the 710 starting at $125 (in 1,000-unit quantities). The new quad-core 2.6 GHz 810 available today has 2 MB of L2 cache plus 4 MB of L3. Two more quad-core models -- the 2.5 GHz lower power 805 and the upper-midrange 2.6 GHz 910 -- will be available later, and pricing has yet to be announced. The 2.8 GHz model 920 unveiled last month with 6 MB of L3 (essentially the 720 plus one core) currently sells for $195, with the 3.0 GHz edition selling for $225.