HTC rolls out 'Magic,' the world's second Android phone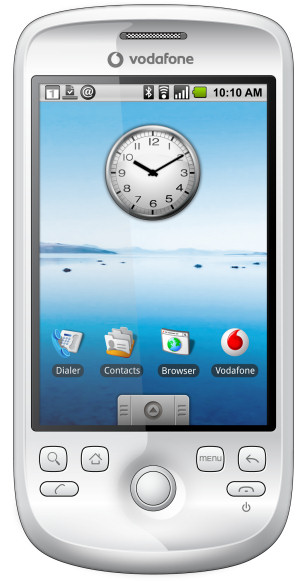 HTC today unveiled a second Android phone to follow the G1/Dream. It's a tablet-style device called "Magic," first announced for several European markets although not yet for the US.
Set for availability this spring, HTC's Magic is slimmer than HTC's original Dream phone, but it adds new features driven by new "Cupcake" firmware.
The Magic will be sold exclusively through Vodafone in the UK, Spain, German and France. The new phone from HTC will also be available in Italy, but on a non-exclusive basis, Vodafone officials said in announcing the phone today at the Mobile World Congress (MWC) in Barcelona.
Vodafone also plans to sell the Magic in several other countries over the next few months, but the European wireless carrier hasn't yet publicly identified those markets.
Like HTC's Dream -- a phone renamed the G1 by T-Mobile USA for its launch last fall -- the HTC Magic will deliver applications through Google's Android Market, an online space now offering more than 800 software packages for download. But HTC will drop the slide-out keyboard that appeared in the Dream, resulting in a device more streamlined than the Dream's 4.6- by 2.16- by 0.62-inch dimensions.
Also like the Dream, the new phone rolled out in Barcelona includes a 3.2-inch touchscreen, GPS, Wi-Fi, HSPDA 3G connectivity, and a 3.2-megapixel camera.
The Magic, however, adds new capabilities supported by the use of new "Cupcake" Android firmware, including video recording capabilities for the camera and a soft, on-screen QWERTY keyboard. Vodafone plans to market a white-colored version of the new Magic in Spain, France and the UK, a black-colored edition in Germany, and Magic phones in both of those colors in Italy.
Meanwhile, also this week, at least two overseas carriers -- Telefonica in Spain and Optus in Australia -- announced plans to sell HTC's first Android phone under its original "Dream" name.