Another Google service outage makes its cloud look more like Swiss cheese

A Google spokesperson confirmed to Betanews this afternoon that soon after the company's Gmail service outage Tuesday, but in an unrelated incident, customers of the company's AdSense network were notified of a service outage.
"On February 25 in the morning Pacific Time," the spokesperson said, "there was a 90-minute AdSense outage that affected a small number of AdSense customers. All affected publishers were notified, and the problem was quickly resolved."
In the case of AdSense, its "users" are publishers who maintain advertising campaigns that gain them visibility to multiple Web sites, including Betanews. Though Google told Betanews today that relatively few customers were notified, it declined to estimate a percentage (which may not have helped much anyway, since we also don't have a confirmed estimate of the number of publishers who use AdSense). Apparently, the distribution of Google AdSense advertising was not impacted, only the administration of campaigns.
Ask any network or content service provider of any size: Outages happen, sometimes too frequently. But the architecture of Google services, which depends more and more in recent days upon the appearance of "one cloud," may be leading to situations where small outages have big impacts.
At the dawn of Google's dominance, Switzerland-based Web entrepreneur Flavio Rump (now a Web developer with Foreway Studios) warned the readers of the search optimization blog SEOBook about the company's very centralized business model: "As a business owner, you always depend on someone: your customers," Rump wrote in December 2006. "Now in most cases, you have several customers, so if one of them should decide not to do any business with you anymore, you'd still have many other customers and it wouldn't hurt you much, if at all. But with adsense, your sole customer is Google. Not only is Google probably the most important source of traffic, it's also your one and only customer. If they decide to stop serving you AdSense (for whatever reason) or to increase their fees, what are you going to do about it? You can't do anything, they are your sole source of income."
Strangely, it took these latest outage incidents -- minor occurrences that may have had greater-than-minor impact -- to provoke the company to display something that small ISPs have had ever since the days of Gopher: a service outage meter.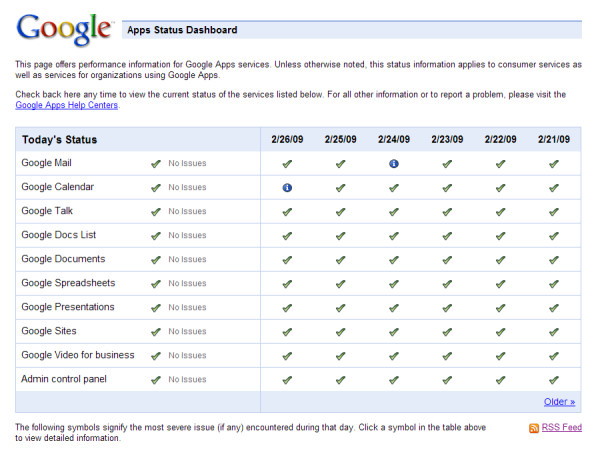 "The Google Apps Status Dashboard represents an additional layer of transparency that we believe will be particularly useful for our business users," wrote sales team member Tessa Prescott this morning, "and it's also relevant to users of our consumer products. The Status Dashboard is the best place to check for information on service availability for Google Apps anywhere in the world."
And of course -- to paraphrase the great comedian Peter Sellers famous "Soviet Cigarette Ad" sketch ("They're the best cigarettes in Russia!") -- it's the only place to check for information on service availability for Google Apps anywhere in the world.