Kindle DX debuts, signs up for fall classes

Amazon officially debuted the Kindle DX today, following several days of leaked images and information that resulted in almost full disclosure.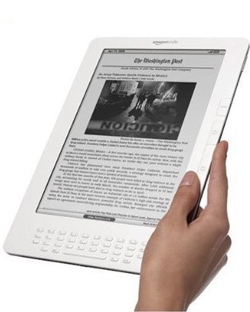 The Kindle DX has a 9.7" e-ink display and offers 3.3 GB of storage versus the Kindle 2's 6" screen and 2 GB of storage. Rather than knock down the $359 price of the only three-month-old Kindle 2, the Kindle DX simply enters the market at $489 and creates a new size-based tier.
Only a few genuinely new bits of information about the Kindle DX hardware came out today, one is that it has automatic portrait/landscape screen swapping a la iPhone, and another is that it has native PDF support unlike its smaller counterpart, which requires conversion.
Less surprising, but no less intriguing, is the support Amazon has received from The New York Times Company, which announced that all New York Times best sellers and new releases will carry a fixed $9.99 price, and that users of the Kindle who are long-term subscribers to The New York Times, The Washington Post and Boston Globe will be offered a reduced subscription price, similar to the "Lifetime subscription rate" originally offered to Sirius satellite radio customers.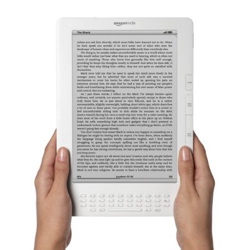 Confirming rumors from late last summer, Amazon announced today that a Kindle pilot program for university students is scheduled to begin next fall at ASU, Princeton, Reed College (Ore.), UVA Darden School of Business, and Case Western Reserve University. The two-semester long program will compare students' experiences with the Kindle DX with those of students using traditional textbooks in the same class, and weigh the device's currently unproven efficacy as a learning tool.
Each university will be testing a different portion of its student body. At Case Western Reserve University, for example, Chemistry, Computer Science and Freshman Seminar classes will be involved in the pilot program. At the University of Virginia's Darden School of Business, the pilot project will include one group of full-time MBA students, and one group of students in its MBA for Executives program.
"We expect considerable interest from our students in terms of pilot program participation," said Darden's Associate Dean for MBA Programs Robert Carraway today, "Having the case studies and textbooks required for classes on the Kindle DX will be a wonderful benefit to students."