Novatel portable hotspot to launch with Sprint, Verizon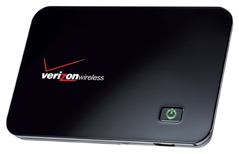 <!article id="1228837559">Novatel's MiFi 2200 was unveiled last December, promising a portable 3G hotspot in a package no larger than a deck of cards. The unique device is unlike previous carrier-subsidized 3G modems in that it not only includes a wireless router for sharing connections, but that it also requires no host machine for use.
The 3.5" x 2.3" x .3" device weighs only 2.05 ounces, supports up to five simultaneous Wi-Fi connections, WEP and WPA2-PSK security, and includes SPI Firewall protection. The device is battery-powered and can run for about four hours on a charge. Novatel publicly showed the device off for the first time less than six months ago <!article id="1231300659">at CES 2009.
Last week, Verizon announced that it will begin offering the device on May 17 for $99.99 (after a $50 rebate) and with a new two-year customer agreement. Monthly service pricing is either $39.99 for a 250 MB monthly allowance and 20¢ per megabyte overage or $59.99 for a 5 GB monthly allowance and 5¢ per megabyte overage.
Today, Sprint announced its own plans to offer the device under the name Sprint Mobile Hotspot in the first week of June. Sprint's charge for the device is identical to Verizon's, and the carrier's broadband plan with a 5 GB cap with 5¢ overage fees is also the same, but rather than offer a lower tier plan, it opts to go for a more comprehensive one called Simply Everything plus Mobile Broadband.
<!image id="3274" align=center>
For $149 a month, users get the aforementioned MiFi service plan plus an unlimited text and data plan for a select Sprint 3G smartphone.