Google shows off Android 2.0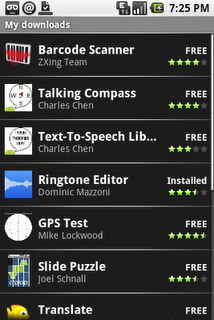 During the keynote at Google I/O yesterday, Android Interface Toolkit Engineer Romain Guy provided a first look at three big developments in Google's open source mobile OS which will be part of the 2.0 update, codenamed "Donut."
The first new feature Guy showed off was "Android Search," a universal search tool that allows contact information, applications, songs, and more in-phone content to be located in addition to content on the Web. It's not unlike the "Spotlight" feature that is included in the <!article id="1237316706">iPhone 3.0 update. The most recent and most-frequently searched terms come in a pre-populated list when Search is launched.
"Every time I click a search result, the system remembers what I did with [it], and the more I use my device, the more it will know about me, about what I do, my common tasks," said Guy. Developers will be able to tie their applications into the search UI, and create results pertinent to users' interests based not only on prior browsing, but also upon their chosen applications.
The second new feature acts as a complement to the Voice Recognition capabilities that came with the <!article id="1233695276">RC33 update last February, and adds Text-to-Speech (TTS) capabilities to Android. Guy showed off a modified version of the Translate app, which could speak the translated text in an appropriate accent. The API will come with the new open source text to speech engine from SVOX and will ship with voice packs for different languages. There was already a TTS library available for Android, developed by Google's TV Raman and Charles Chen (developer of Fire Vox, talking Firefox extension), but that is <!external href="http://eyes-free.googlecode.com/svn/trunk/documentation/tutorial/tutorial.html">based upon a port of the eSpeak engine.
The final new feature is a gesture upgrade that recognizes handwriting. In the contact list, for example, the user will be able to jump to a letter by drawing it on the screen, the same could be done in the phone's music library.
These are only the first of hopefully many more upgrades to come when Android 2.0 is released, as Guy was inclined to specify, "We care about the user experience, but we also care about the developer experience, and we hope that with those new APIs that we are introducing in Donut -- there will be more -- you are going to come up with awesome applications that will make Android a more exciting platform."