Adobe offers free BrowserLab preview

Adobe today continues to flesh out its broadening portfolio of hosted services. Last week, the company unveiled a Web-based slideshow tool called Presentations, which joined the online word processor Buzzword, ConnectNow Web conferencing tool, Share, CreatePDF, and My Files on Acrobat.com.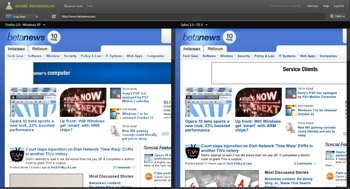 This morning, Adobe Labs made BrowserLab available as a free preview. The cloud-based service renders Web pages in Internet Explorer, Firefox, and Safari as seen in Windows XP and OS X without the need to have those browsers or operating systems installed on the local computer. This testing tool generates real-time screenshots of the user's chosen page for browser comparison. The page can be rendered in two side-by-side panels, for example, or in an "Onion Skin" view. In this view, there is a slider where each extreme represents a browser/OS combination, one side could represent Internet Explorer 7.0 in XP and the other Safari 3.0 in OSX, and so forth. When the slider is moved, it dissolves the image from one browser into the other, highlighting the exact differences by overlaying them on each other.
Eventually, this will be a subscription-based service, but during this preview period, Adobe is testing its resource intensiveness and allowing U.S. users with an Adobe ID to freely play with it. Enrollment, however, is limited. But the preview's availability is kept current on Adobe Labs, so if you're interested in testing BrowserLab and cannot access it, just wait a while and check back.