First US peek at HTC Hero phone with Sense interface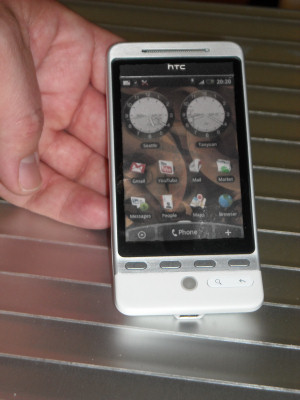 HTC's Hero, finally formally <!article id="1245859976">introduced in London on Wednesday after months of rumors, was shown at Pepcom's Digital Experience event in New York City earlier this week, and Betanews got a peek.
Reps in the HTC booth focused on the phone's widget-based interface, known as HTC Sense. Up to now, HTC's <!article id="1222205193">G1 has been the only Android phone in commercial use. But HTC is also working on differentiating its Android devices from others that will spring up in the future, according to a rep.
"And one way we can differentiate is with a better user experience. Any manufacturer can use one of the stock 'Android Experiences.' But we're offering 'custom experiences,'" he told BetaNews. For example, through one custom feature, dubbed "scenes," you can create different customized content profiles around "specific functions or times in your life."
HTC's Hero is slated for availability in Europe in July, Asia later in the summer, and North America some time this fall.
The Hero wasn't the only phone shown during the event this week. Perhaps within the next week, rugged phone manufacturer Sonim Technologies plans the announcement of a US carrier relationship for its "ruggedized" Land Rover S1 phone. Shown at a New York City press event on Wednesday, the new GSM phone is "shockproof, dustproof, and water-submersible," said a Sonim rep, speaking with BetaNews.
<!media id=3496 right>The S1 is also billed as capable of withstanding 800 pounds of pressure, and of putting up with temperatures ranging from -4 to 131 degrees Fahrenheit.
The phone carries an IP-67 rating, suiting it for military use. Yet it's also targeted at "construction workers, boaters, campers, hikers, bikers" and just about anyone else who roughs it in the great outdoors, BetaNews was told.
Other features include FM radio; a 2 megapixel camera with a built-in flash; GPS; a 2 gigabyte (GB) memory slot; Bluetooth; and WAP browsing through a built-in Opera Mini browser.
The phone is already available in Sweden, the Netherlands, South Africa, and Germany, for instance. The US price tag is hefty at $489. But the S1 comes with a three-year "unconditional guarantee," she said.